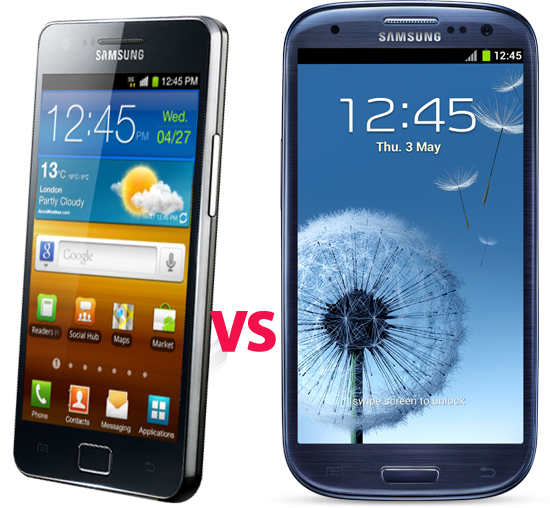 Samsung Galaxy S2 still is one of the sexiest smartphones in the market even if it's more than year old. It may have a cheap-feeling plastic shell but that's what makes it incredibly slim, light, and durable. Drop it on concrete and it gets out alive with just a few scratches. Now that Galaxy S3 is out, it got many thinking – is it worth the upgrade coming from SGS2? Or is it worth skipping until Samsung releases their next Galaxy smartphone?
The exterior
What you'll instantly notice on Samsung Galaxy S3 is not its larger-than-S2 screen size but its redesigned exterior. They gave it a more fluid design with curved corners and an elongated home button. Samsung says its design was inspired by nature. The edges have a more prominent metal piping, tapering smoothly towards the smooth and glossy back cover. SGS3 still has the same plastic build as its predecessor which is a good choice for durability. Although unappealing to many, plastic is good at absorbing shock. Love it or hate it, the new design of Galaxy S3 is refreshing. They're offering it in pearl white and marble blue.
When it comes to dimensions, the third-generation Galaxy phone is just 0.1mm thicker but it is unmistakably taller, wider, and heavier than Galaxy S2. It isn't heavy for its size though, weighing only 133 grams. The 4.8 inch screen leaves much to be desired but only if you're willing to own such a large phone.
Internal hardware
Internally, some things have changed but others have not. The most evident change Samsung made is on its screen. It now has a 4.8" Super AMOLED HD panel with 1280 x 720 pixels and 306 ppi. All of which account for a more vibrant and vivid display. The phone also has a more powerful processor – a 1.4GHz Exynos 4 Quad with quad-core architecture. Internal storage is upgraded to 32GB, twice of what SGS2 had. Expandable memory is still possible with the microSD slot. The new Bluetooth 4.0 with A2DP on Galaxy S3 transfers files at faster rates. Near Field Communication (NFC) technology has been added to the phone as well. Also for its hardware is a healthier 2100mAh Lithium Ion battery.
SGS3 still has the same 8-megapixel rear camera with autofocus, LED flash, and 1080p video recording at 30fps. But it now has Zero Shutter Lag for capturing moments in a split-second. Other unchanged specifications include the 1.9MP front camera and 1024MB RAM. Lack of changes in these three is rather disappointing despite all the changes made on other hardware.
Software
Samsung Galaxy S2 originally shipped with Android 2.3 Gingerbread but has been upgraded to 4.0 Ice Cream Sandwich. Its hardware is prepared for another upgrade too. Samsung Galaxy S3 is shipping with Android 4.0.3 Ice Cream Sandwich out-of-the-box. Like the Galaxy S2, its hardware is ready for several more software upgrades. The Touchwiz interface is basically the same with Samsung Galaxy S2 and S3 but iconography looks more professional with Galaxy S3. Also worth mentioning is its new nature-themed UI which is very pleasing to the eye, might I add.
Conclusion
If you're willing to let go of your SGS2, the Galaxy S3 offers a fresh design, a larger and more vivid display, beefier internal storage, and the quad-core Exynos 4. It also features a more intuitive user interface and NFC technology for wireless purchasing. But do you really need all these?
You've spent quite a fortune on your S2 already and it's more than capable of surviving at least another year without having to upgrade. Until games and applications require a quad-core processor, holding on to your SGS2 won't be as bad as owning a single-core phone with a smaller screen size and less impressive specs.