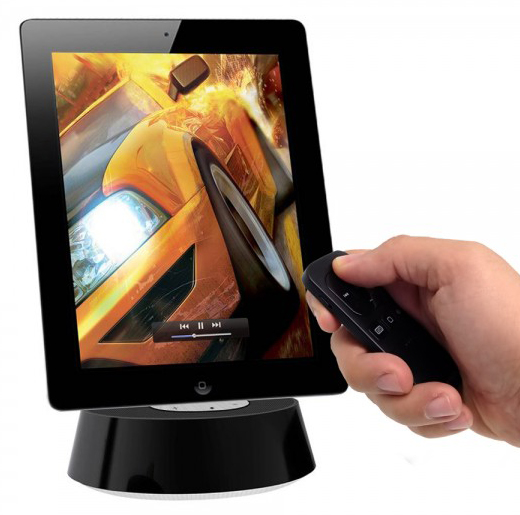 Satechi Bluetooth Multimedia Remote Control is pretty straightforward in its function. You can use it to control music or video content on your iPhone and iPad without actually reaching for them. It deserves much more credit though since it can do much more than that. The remote is compatible to all Bluetooth-enabled Apple products including the iPhone 3GS/4/4S, iPad 1/2/3, iPod Touch 2G/3G/4G, MacBook Air/Pro, iMac, and Mac Mini.
Design
The control is neither too small nor too large for your hand. It's just the right size, making it comfortable to grip. Apart from its compact design, Satechi BT Media Remote is lightweight weighing just an ounce. It has 8 control buttons in total – each with a different purpose. Buttons are made of glossy plastic instead of the dull finish which the body has. Eventually, you'll be able to play, pause, and move forward and backward through your music gallery with eyes shut. It's that easy to familiarize yourself with the controls.
Hardware and feature
Even though it's small, the remote can last up to 6 months on two CR-2025 coin cell batteries. It has Bluetooth 3.0 HID, Class II interface. The primary function of Satechi's BT Media Remote is control music or video on your iPhone or iPad while it is connected to your car stereo, dock station or TV. It can do so from up to 33 feet away; quite impressive for something small.
In addition to that you can remotely control the iPhone's camera too. You can set up your iPhone on a stand or tripod and take snapshots from a distance. The most interesting feature of the remote controller is its ability to activate Siri. While this requires you to reach for your iPhone and launch the app from the start, you can control Siri after that. That's not all though. If you need to present a Keynote, you can also use Satechi's BT Media Remote for that. The device is compatible with Keynote on Bluetooth-enabled Macs. Pressing the play button will start the presentation, whereas pressing forward and rewind buttons will take you to the next and previous slides.
Verdict
The Bluetooth remote is a bargain at $39.99. Contrary to popular belief, it doesn't just playback music or videos from a distance – it can also be used to navigate across your Keynote presentation, activate Siri, and take photos with your iPhone via Bluetooth.