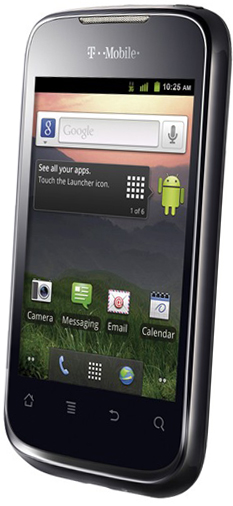 T-Mobile just launched a new budget phone and they're selling it for $20 on-contract. It is a Huawei-made Android handset called Prism. T-Mobile Prism will be available beginning May 6 and is targeted to first-time smartphone users.
Not much is going around with the specs of T-Mobile Prism, although, we know little of its hardware at this point. It has an average 3.5-inch screen with HVGA display, 3.2MP rear camera, and 3G connectivity. It will run Android 2.3 Gingerbread and unlikely to be upgradable to ICS. It might have an 800MHz single-core processor at most, and 512MB of RAM or less. Remember that these are pure speculations from our part. We can expect a microSD card slot from it too for expandable memory, along with Bluetooth, WiFi, GPS, and other typical features of Android phones.
Prism will be exclusively available to Best Buy on May 6 followed by Walmart on May 9. Nationwide availability at retail stores, select dealers, and T-Mobile.com won't start until May 23. T-Mobile is selling the device for $19.99 after the $50 mail-in rebate. It is offered with a two-year contract and qualifies for a Classic voice and data plan. Customers can also opt for a no-contract agreement where they have to pay $149.99 for the device.
The only pitfall of T-Mobile Prism is that it doesn't have 4G connectivity. Even XT560, the low-end smartphone that Motorola is preparing, has 4G connectivity despite similarly limited specs like a sub-gigahertz processor and Android Gingerbread OS. An existing competitor to Prism is LG Optimus Elite which although doesn't have 4G gets NFC technology under the hood. Optimus Elite is offered at Sprint for the slightly higher price of $29.99 but gets a 5MP camera and free 50GB of cloud storage from Box.