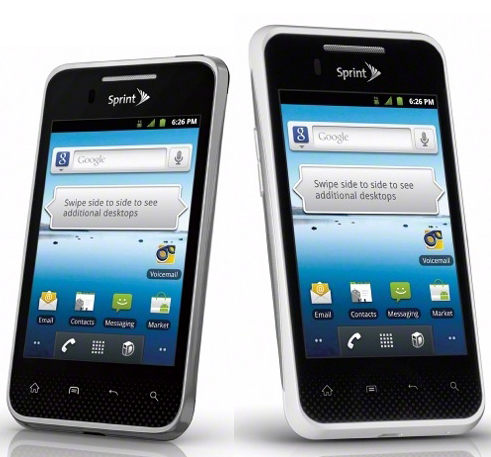 LG Viper 4G was the first handset announced by Sprint. It is slated for release on April 22, just in time for Earth Day. Viper is an eco-friendly phone made of 50 percent recycled plastic and comes with an 87-percent recycled package. Next in line from Sprint was Samsung Galaxy Nexus. It will also be released on the same day that Viper 4G is. As it turns out, these two won't strut their stuff as a couple because Sprint is launching yet another eco-friendly device on Earth Day – LG Optimus Elite.
The reason why Elite sounds familiar is because it's old news. A month ago, we said it would arrive on Sprint soon and today, they made it official in a press release adding it will be launched on April 22 along with Viper and Galaxy Nexus. Unlike these two, Sprint is not offering it for pre-orders. It was only today we found out that Optimus Elite is an eco-friendly option though, along with several other details like specs and pricing.
Although previously reported to have a 3.2-inch screen, LG Optimus Elite actually has the same 3.5-inch display as iPhones. Other reported specs like the single-core 800mHz CPU, 5MP rear camera with flash, and built-in NFC turned out to be accurate though. The strictly entry-level phone runs Android 2.3 Gingerbread and includes a free 50GB cloud storage from Box until July 22. Among the eco-friendly attributes of LG Optimus Elite are ULE Platinum Certification and RoHS compliance.
Like Viper 4G its case is made of 50 percent recycled plastic and comes in recycled packaging. The phone charger is energy efficient and has an EC Code of Conduct for that. Sprint is offering LG Optimus Elite in Titan Silver and White for $29.99 on a two-year contract. The US carrier is giving a $50 mail-in rebates to existing customers. The green smartphone will be available on Sunday, April 22 for Earth Day.