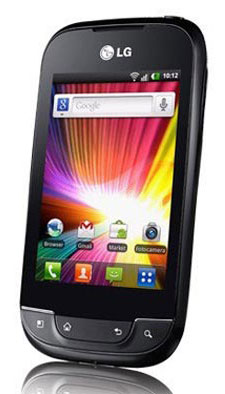 A new entry-level smartphone is bound for Sprint and Virgin Mobile in coming weeks. It doesn't sound exciting but wait until you hear this – it will have a built-in NFC sensor. LG Optimus Elite will be the first NFC-enabled device offered by prepaid carriers in the US. Promo shots and some of its specs surfaced online via PocketNow.
LG Optimus Elite has a 3.2-inch screen with 480 x 320 display resolution. It has a single-core processor clocked at 800MHz, a spec which used to be a standard for midrange Android phones. It also gets a 5-megapixel rear camera with flash and of course, near field communication technology. The NFC chip inside Optimus Elite can be used for making quick transactions at Kwik-E-marts and other local stores who embraced local wireless purchasing. At 3.2 inches, LG Optimus Elite is no 4.6-inch new iPhone. But if you prefer small phones and open to wireless transactions, it's a good catch.
The Sprint version of LG Optimus Elite will be called Gelato. Sprint has a reputation of offering phones for free under a two-year contract. Its Virgin Mobile variant will most likely cost you less than $100 though minus the contract. Gelato is arriving to Sprint soon, followed by the release of its Virgin Mobile counterpart this early May. Optimus Net, another entry-level device by LG, will be shipping to both carriers at the same time. It has the same 3.2-inch display and 800 MHz CPU but with a 3-megapixel camera, a different design, and no NFC technology.
MetroPCS is also getting an entry-level phone from LG called Optimus M. Yesterday, Verizon released an affordable 4G smartphone, LG Lucid 4G. The trend is obvious from this point – US carriers are . The number of Americans who own smartphones will soon overtake those who own feature phones if this trend continues.
via PocketNow