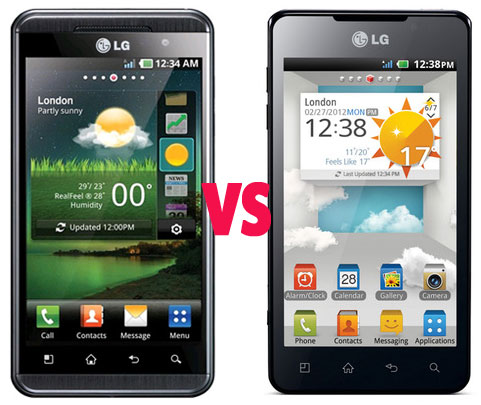 LG Optimus 3D MAX won't be shipping this March after all. While it was intended for release this month, it just got approved by Global Certification Forum (GCF) and might not be seen in stores until April or May – possibly June, even. Optimus 3D MAX is the second 3D phone released by LG and a successor to their one-year old Optimus 3D. It got approved for HDSPA category 14, EDGE class 12, and GSM 850/900/1800/1900. That means no 4G for this baby but there's still hope – Sony Xperia S doesn't have an LTE radio but its AT&T version, Xperia Ion, has one. Now let's take a closer look at LG Optimus 3D MAX in comparison to its older brother.
Design
For an upgrade, it doesn't look much different from Optimus 3D but it is arguably lighter and thinner than its predecessor. The previous model was a slab with its 11.9mm width but Optimus 3D MAX is more bearable at 9.6mm. It's more compact and easier to slip into the pocket this time, though it still has the same plastic body that's glossy on the sides and textured on the front. No physical buttons but the same ol' capacitive buttons on the bottom panel – Menu, Home, Back, and Search – from left to right.
Specs and features
Optimus 3D MAX has a 4.3-inch display with 480 x 800 pixels which, sadly, is the same as its predecessor. Its processor is still dual-core at a time when quad-core smartphones are dominating the Android market. The TI OMAP 4430 chip was bumped up to 1.2GHz though, a slight but significant improvement. It's shipping with Android 2.3 Gingerbread but an ICS update was promised after its release. The update will most likely bring the same UI changes found in Optimus 4X HD, LG's flagship phone powered by Tegra 3.
Peaking from the backside are two 5-megapixel cameras which can be used for capturing 3D photography and videos – again, another spec similar to Optimus 3D. In the middle of these two rear cameras is a single LED flash. 3D videos can be shot at a maximum resolution of 1280 x 720 pixels. And for regular video recording, it can capture 1080p HD videos. The new MHL port found in Optimus 3D MAX gives you the option to stream 1080p and 3D videos to a compatible HD TV. Other known specs include:
• 1GB RAM
• 8GB internal storage
• 1.3-megapixel front-facing camera
• PowerVR SGX540 graphics card
• Connectivity: 2G/3G, WiFi, and Bluetooth
• Built-in NFC sensor for reading LG Tag+
• 1520mAh battery
Verdict
LG Optimus 3D MAX doesn't offer many changes inside and out. If you still have last year's Optimus 3D, an upgrade isn't really necessary unless you feel the need for new specs and features like streaming 1080p and 3D videos to HD TV, NFC technology, and a faster processor. But if you're still planning to get a 3D phone, LG Optimus 3D MAX would make a great first. LG's recent partnership with Gameloft is a good sign and could jumpstart app developers to embrace the three-dimensional revolution.