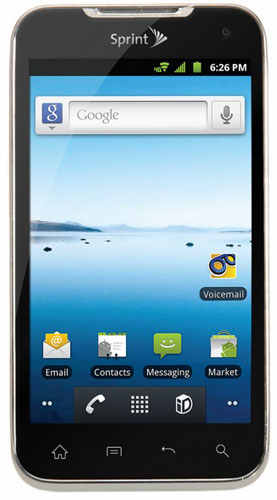 Sprint first debuted LG Viper 4G on their website as an eco-friendly option with NFC technology. Its clever name easily gives away its best feature yet – 4G connectivity. But this spec isn't much of a selling point, at least, not this time. Sprint is a late-comer in LTE technology and won't start expanding their network until mid-2012. With that being said, LG Viper 4G is a future-ready device and for $99 off-contract, you should give it some thought considering its other specs.
Design
Viper isn't exactly thin but weighing only 5 ounces, it feels solid and fits any hand perfectly. It's mostly made of plastic but the metallic band surrounding the edges and rear camera brings up its design from cheap to classy. The top side is marked by the power button and 3.5mm headset jack, volume rocker is on the left side, and a microSD card slot is on the bottom. All physical buttons don't protrude much – just enough so you can power your phone or change the volume setting. For navigation, LG included four touch-sensitive buttons below the display. Arrangement is a bit odd though and needs getting used to.
Everything on the back side of LG Viper seems badly positioned. Camera and LED flash are located on the topmost part of the back cover. When taking photos, you have to carefully position your hand to avoid covering the lens or flash. The speaker grill, located between the flat back and tapering edge on the bottom, might also be a problem. Again, you can cover this part of the phone when holding with one hand, obliterating sound quality. Placing the phone face-up on a flat surface could also prevent the speaker from blurting out sound at full volume.
Worth mentioning however is the eco-friendly nature of LG Viper. Owning one for a smartphone not only makes a big tree-hugging statement on your part, it's also a contribution to the cause of saving planet Earth. Viper 4G is made of 50% recycled plastic and has an energy-efficient charger. The package is made of 87 percent recyclable material.
Specs and features
LG Viper 4G may be a 2012 release but it lacks one key spec present in most Android phones these days – the latest OS. Sprint offers the phone in Android 2.3 Gingerbread and gave no word about an ICS update. It has a dual-core Snapdragon S3 processor clocked at 1.2GHz, a great spec for a midrange handset. Other specs include a 4-inch WVGA NOVA display packing 233 pixels, a 5MP rear camera with autofocus and LED, a VGA front-facing camera, a gigabyte of RAM, 1.5GB of on-board memory, and 1700mAh battery.
Sprint is offering a 4GB microSD card for the available microSD slot but Viper is able to support up to 64GB without any problem. The 5-megapixel shooter on LG Viper doesn't stop it from taking full HD 1080p videos at 30fps. The display, despite its limited resolution, is bright and vivid. But chances of Viper lasting an entire day on 1700mAh is slim. Overall, the specs of Viper are decent and satisfying to anyone looking for a great find but let's not forget its most advertised spec – 4G connectivity. 4G is the fastest way to connect surf the web. Unfortunately, Sprint's LTE networks are still limited to a few regions and won't expand until June.
Another differentiaton of LG Viper is the built-in NFC chip and pre-installed Google Wallet app. Both give users the option make contactless payment at major store chains like Macy's, Walgreens, and Gap, as well as selected shops. Citibank MasterCard holders are at an advantage here because these stores accept MasterCard PayPass. If you own a different credit/debit card, you'll have to go through the extra effort of adding money to a prepaid Google card.
Verdict
LG Viper 4G has a few setbacks on design and is coupled with an expectedly-average battery life. But even though Sprint is offering this 4G phone too early, its other specs and $99 on-contract price tag shouldn't be looked over. And with an "everything unlimited" plan including 4G data, you'll never look back. If you want a more stylish option running Windows Phone and for the same price, you could read our review on Nokia Lumia 900. The Lumia phone lacks external storage support and NFC but has a larger 4.7-inch screen, 8-megapixel rear camera with autofocus and dual LED flash, and a dedicated camera button.
Sprint currently offers LG Viper 4G for pre-order. Off-contract, they're selling it for $399.99 which is quite expensive. Shipment date is April 22 and it'll be available for retail by then.