Zoom H2 was a portable audio recorder released in 2007. Although it looked like a man's electric shaver, it had great specs and was capable of recording and playing back MP3 and WAV audio formats. The newly announced Zoom H2n – also dubbed "H2next" – succeeds the 2007 release and borrows the same design concept. And since there's a five-year gap between the two, we can expect more than hardware upgrades to be present in H2n.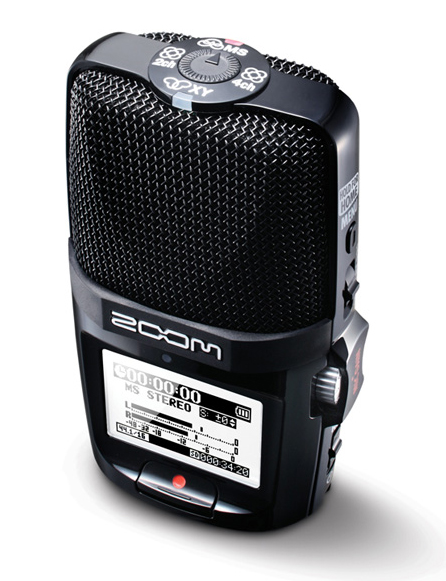 Design
H2n handy recorder doesn't lose the electric shaver look of its predecessor but it's hard to ignore the changes Zoom made on its design. One of the first things you'll notice is the larger microphone which now takes up almost half of the device. The control pad is gone now and gives way for the bigger (and brighter) 1.8-inch LCD backlit display. Since there's no space for controls on the front panel, most of them are located on the sides. Although larger and heavier than H2, Zoom H2n still lives up to its name as a handy recorder.

| | | |
| --- | --- | --- |
| Measurements | Zoom H2n | Zoom H2 |
| Dimensions | 67.6 x 113.8 x 42.7 mm | 63.5 x 110 x 32 mm |
| Weight | 130g (without batteries) | 110g (without batteries) |

In addition to the new layout, bigger display, and larger microphone, there are three more interesting changes worth noting. First, the new Analog Mic Gain used on H2n replaces the standard up/down record-level control buttons of H2. Second, recording is also made easier by the new record button located below the display. With H2 it was caught in the middle of the control pad. The last design change worth noting is its all-black color. The original H2 came with a silver design.
Hardware and features
Zoom H2n gets an additional microphone so it now has 5 mic capsules instead of just 4. The 5 microphones allow four separate recording modes: 90-degree X/Y stereo, Mid-Side (MS) stereo, 2-channel, and 4-channel surround sound. Exchanging between these modes is made possible by a knob located atop the microphone. Meanwhile, combining MS and X/Y microphones enable 360-degree surround sound recording. Regardless which audio recording mode you decide to use, recorded audio is guaranteed to be surround-sound quality.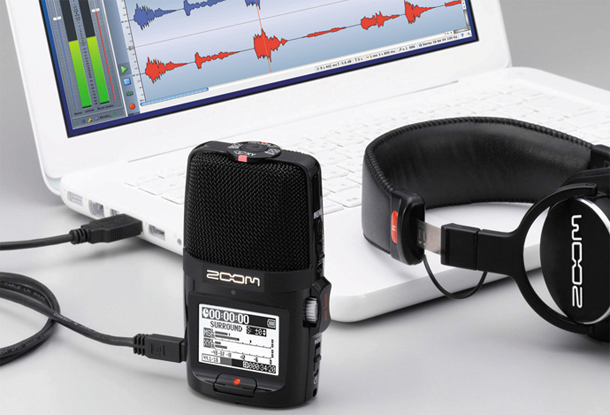 Most hardware and features remain similar across both models though, H2n gets a few upgrades. Take for example the new data recovery function which automatically restores recorded audio in case of sudden battery loss or an accidental power-down during recording. You can also edit recorded audio on the device without having to connect to the computer. With H2n's MP3 encoder, you can even convert WAV to MP3 files.
Battery life is increased to 20 hours from 4 hours when relying on two standard AA Alkaline batteries. The Analog Mic Gain wheel of H2n offers the advantage of precision volume control – something that the digital volume controls used in most recorders couldn't do. There's also an onboard reference speaker which serves to notify you about successful recordings. Listed below is a preview of Zoom H2n's key specifications.

Specifications

Zoom H2n

Built-in mic
MS stereo, 90-degree XY stereo
Recording format
Stereo mode: PCM (16/24bit, 44.1/48/96kHz), MP3 (48 to 320kbps, 44.1kHz)
4-channel mode: PCM (16/24 bit, 44.1/48kHz)
Display
1.8-inch backlit LCD, 128 x 64 pixel
Mic/Line input
1/8" stereo phone jack, plug-in power supported
Phones/Line Output
1/8" stereo phone jack
USB
Mini-B type, Mass Storage Class (USB 2.0 High Speed Compatible), Audio Interface Operation (16 bit, 44.1kHz/44kHz)
Storage
SD/SDHC up to 32GB
Power requirements
AA/LR6 battery x 2 or AC adapter AD-17
Battery Life
20 hours (16 bit/44.1kHz WAV recording)
Verdict
Coming from H2, Zoom H2n offers significant upgrades better suited for these times. And unlike the previous model, it's sells for $188. Zoom H2 is clearly an outdated model in design, hardware, and features and it's about time you upgrade to H2next.