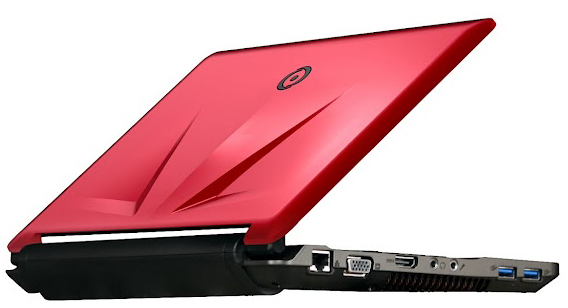 Origin EON 11-S is a gaming laptop you won't be ashamed to take out in public. It's not the perfect size for gaming but you'll certainly appreciate it for not drawing too much attention. Even the most graphic-intensive games run smoothly on EON 11-S despite its netbook-like proportions; granted that you pick the right configurations, of course. You do have to pay the price of having to deal with its small screen. Other than that, Origin EON 11-S doesn't sacrifice that much for the sake of a portable gaming experience.
Design
EON 11-S has a moulded back, a design typically associated with Alienware laptops. You can choose from black, red, and silver color options when buying one. The angular, fin-like back doesn't add too much thickness on the laptop though and helps set it apart from standard netbooks. Oddly enough, its interiors aren't nearly as flashy as the back panel. That being said, it has a simple island-style keyboard without any backlights as well as a no-frills touchpad with small mouse buttons. If it weren't for the Origin logo below the 11.6" screen, you won't be able to tell it wasn't just your average laptop from the inside.
The keyboard is workable. It has a set of Function keys with alternate functions and important keys like the Shift and Tab are large enough. Unfortunately, the right Shift feels a bit shrunken and the WASD keys for controlling gameplay seem too small. The touchpad shouldn't bother you though since you will likely use a wireless optical mouse for gaming. It is worth noting that for casual use like surfing the web, the touchpad is more than enough. Dimensions-wise, Origin EON 11-S isn't nearly as thin as ultrabooks or as light as most ultraportables. However, it is compact enough to fit snugly in a messenger bag.
Hardware and performance
EON 11-S sports an 11.6" HD display. It is the gaming laptop's main selling point. While there aren't that many pixels going around, 1366 x 768 is a suitable resolution for its screen size. The cheapest model which sells for $999 will get you an Intel B960 Pentium dual-core CPU and an NVIDIA GeForce GT 650M GPU. The graphics processor is great but its main processor shouldn't get you excited. You should at least upgrade it to Intel Core i5-2520, a dual-core CPU clocked at 2.5GHz and has 3MB cache. For optimum performance, you can go with Intel Core i7-3612QM for $1,542 or 3820QM for an additional $251.
Hard drive options are highly configurable. You can choose from a total of 23 including HDD and SSD drives. Since there is no internal optical drive, several ports were crammed onto its sides. These include two USB 3.0 and one USB 2.0 ports, a VGA plus HDMI output, and headphone/microphone jacks. There's also space for stereo speakers on the sides. The laptop can only connect to 802.11n WiFi and Ethernet which means you'll need a separate Bluetooth dongle for BT connectivity. The lack of an optional mobile broadband is also a letdown considering most ultraportable laptops have one. Battery life isn't quite good on Origin EON 11-S as it can only last 3 hours on continuous video playback. But for a gaming laptop, that is a pretty impressive thing to see.
Benchmarks show that EON 11-S isn't the best in the market. It falls behind Samsung Series 7 Gamer and Maingear EX-L 15 in most tests, including multimedia multitasking, Adobe Photoshop CS5 image processing, Apple iTunes encoding, and gaming. This is not to say it is the worst though, as it scored better than other Core i7 laptops. Gaming could be an awkward experience though, especially if you've gotten used to large screens. The two tiny speakers on the underside of Origin EON 11-S produce sounds befitting of their size but you can use headphones to fill in this gap.
Verdict
Origin EON 11-S is a highly-configurable laptop which doesn't sacrifice much power for the sake of more portable PC gaming experience. If you don't really plan on using it for heavy gaming, the $999 model is enough. But if you do intend to use it as your main gaming platform, it is highly recommended that you at least upgrade it to Core i5. The small screen and crammed keyboard need getting used to but when looking for a compact gaming laptop, these are two sacrifices you have to deal with.