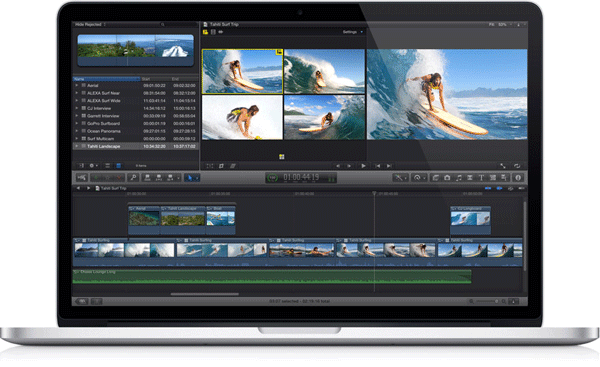 The MacBook Pro is pretty much the most popular laptop in the world – it's used by millions and it still retains a luxury status, even though its price has gone way down and is now comparable to similarly specced laptops from other manufacturers. The line has gone through many generations and its design has now pretty much reached perfection – you'll recognize the sleek aluminum profile of a MacBook Pro anywhere, and it never seems to go out of style.
Just recently, Apple has introduced the latest MacBook Pros, which got a few great upgrades in the hardware department, with the most notable ones being the Ivy Bridge processors and of course, the Retina Display on the high end models. Let's see what else has changed in the new MacBook Pro line.
Design
The design of the MacBook Pro may be almost perfect, but there's still room for improvement. Apple thought that's the case, too, so they made the laptop slim – almost impossibly slim. You get a very powerful quad core machine that is only 1.8 cm thick with the lid closed – that's almost Ultrabook territory! Of course, that is accompanied by a reduction in weight, too – the new MacBook Pro is just 2.02 KG, and if that's not impressive, I don't know what is.
Overall, the exterior remains the same as the previous Sandy Bridge model – it's still a unibody construction with a big sheet of glass over the display, black keyboard and big, comfortable touchpad. There are really only improvements to be seen on the outside.
Hardware features and performance
The inside of the laptop is another story, though. Obviously, the new MacBooks got the Ivy Bridge update, with quad core Core i7 processors running everything smoothly and faster than ever. The laptops support up to 16 GB of RAM, which is now DDR3L (low power) and soldered onto the motherboard – more on that in a second.
Other upgrades include the Nvidia GeForce GT 650M graphics adapter, the new MagSafe2 power port, two USB 3.0 ports, two Thunderbolt ports, a HDMI out port (and yes, you can power 3 displays off one laptop), and an SD card slot. There's also the usual Wifi N and Bluetooth, but the most attention goes of course to the Retina Display: this thing is a beauty to behold! It's an IPS panel with an eye-popping 2880×1800 pixels resolution (220 DPI), which makes every other display pale in comparison – Apple really outdid themselves this time!
The rest of the internal space is taken up by batteries – there's simply a lot of them, which is understandable seeing as the new components require a lot of power.
Now for the drawbacks: to achieve the ultra slim profile and light weight, Apple had to drop the optical drive and most importantly, they soldered the CPU and RAM to the motherboard, making it non-user upgradeable, plus the mSata SSD is also a custom design, so upgrading it is most likely out of the question, too. That's bad news for those who like to upgrade their laptop down the road, but frankly, it's not an issue for the average user, who will buy a new laptop in 2-3 years, anyway. The batteries are also non-user replaceable, and the display assembly is almost impossible to disassemble – if anything goes wrong, you'll have to replace the whole thing, so be sure to handle your new Retina MacBook Pro with care (well, more care than the previous models :-)).
Technical specs
| Specifications | Apple MacBook Pro with Retina Display |
| --- | --- |
| Display | 15.4 inches, 2880×1800 pixels, 220 DPI, IPS LCD |
| Processor | Intel Core i7 Ivy Bridge, Quad Core |
| RAM | 4 to 16 GB DDR3L |
| Graphics Adapter | Intel HD Graphics 4000 integrated, NVidia GeForce GT 650M dedicated – switchable |
| Storage Space | Up to 768 GB of SSD storage space |
| Camera(s) | Front facing HD camera (FaceTime camera) |
| Connectivity Options | Wifi N, Bluetooth 4.0, 2 x Thunderbolt, 2 x USB 3.0, HDMI out, SD card slot |
| Battery | 95 Ah, Li-Ion, up to 7 hours of continuous use |
| Operating System and Software | Mac OS X Lion, iLife 2011 |
Software features
The new MacBook Pro ships with Mac OS X Lion, of course, and Apple is including the iLife suite as well. That's a pretty standard package that Apple has been shipping for quite some time now on their computers, and there's really nothing worth of note about it that hasn't been said before. You can install any other OS, although the compatibility with Windows and Linux has been getting worse every year.
Price and availability
The new MacBook Pro is already available for sale in Apple stores and on their website – the price starts at $2199 for the base model – that's quite a steep price, and you're paying most of it for the beautiful display, slim profile and Ivy Bridge processor. If you need those, then it may be worth it, but if you want something more affordable, you could just get a Full HD laptop from another manufacturer.