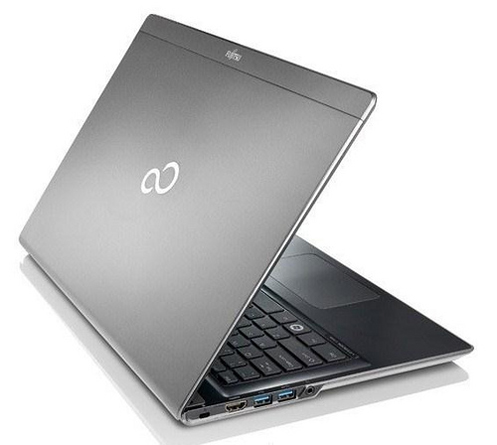 Fujitsu is not the most popular brand on the mobile market, but they actually have more know how in the area and have been on the market for longer than you think: you might not remember it now, but the Stylistic line of slates were the closest thing to today's iPad and Android tablets – in fact, they were exactly like today's tablets, except bigger on account of older technology.
Fujitsu never left the market, either: they've been steadily releasing some great consumer laptops and slates in Asia, mostly Japan, and now it seems that they want to return to the western market, as well. Their entrant: the Lifebook U772 Ultrabook, which debuted in Japan and will be available in the US, as well.
Design
Just like Fujitsu latest laptops, the new U772 looks quite nice, and feels so much better thanks to the magnesium alloy construction (their other laptops are mostly made of plastic). Overall, the design of the new Lifebook is attractive, understated and professional – it's definitely not like any other Ultrabooks, and that's a good thing.
The device is slim, and the display is covered with a glass that gives it a frameless look (although the actual frame is quite thick). The ports are easily accessible, and the keyboard and touchpad are nice, although the touch pad could use some work – it's an Alps unit by the looks of it and multi touch gestures don't work well, plus the two seamless keys are a bit hard to use.
Hardware features and performance
If you've checked out the specs of any recent Ivy Bridge Ultrabook, then you pretty much know what to expect from the Fujitsu Lifebook U772. The laptop uses the same Core i5 or i7 ULV processors as its market counterparts, supports up to 8 GB of DDR3 RAM and packs a punch with the new Intel HD Graphics 4000 GPU, which is on the processor itself (it can run Skyrim and GTA IV quite comfortably, which is pretty impressive, although the ULV processor is a bottleneck on Ultrabooks).
Storage space wise, you can get 128 or 256 GB SSD or a nice 500 GB HDD + 32 GB SSD combo for the most storage space and performance at a low price. The rest of the specs are pretty standard: a simple 14 inch display with the barely useable 1366×768 resolution, a webcam, Wifi N and Bluetooth and the usual USB 3.0 ports, HDMI and Ethernet jacks.
Technical specs
| Specifications | Fujitsu Lifebook U772 |
| --- | --- |
| Display | 14 inches, 1366×768 pixels, TN panel |
| Processor | Intel Core i5 or Core i7, Ivy Bridge |
| RAM | 4 to 8 GB DDR3 RAM |
| Graphics Adapter | Intel HD Graphics 4000 (16 processing cores) |
| Storage Space | Up to 256 GB SSD or up to 500 GB HDD and 32 GB of SSD cache |
| Camera(s) | 2 MP webcam with 720p video recording |
| Connectivity Options | Wifi N, Bluetooth 4.0, Gigabit Ethernet, 3xUSB ports, HDMI port, SD Card slot, optional 3G modem |
| Battery | 45 Ah, Li-Ion |
| Operating System | Windows 7, Microsoft Office Starter 2010 |
Software features
The Lifebook U772 has been released already in Japan and is coming this month in the US, so Fujitsu is shipping it with Windows 7. You're not missing much from Windows 8, but the latter has a few improvements that make it snappier on slower processors and save more battery life. There's also Microsoft office 2011 Starter, which you'll have to purchase a license for if you want the full version.
Price and availability
The base model of the Lifebook U772 starts at $1149, which is a pretty standard price point for the specs, and you can customize to order the Ultrabook if you need more processing power or storage space. Fujitsu has always been good at making quality products (they're designed in-house in Japan or Germany, since Fujitsu bought the Siemens share of the company, so the internal design is always top notch), and the Lifebook U772 is a great choice for anyone, whether you need it for work or as your home computer.