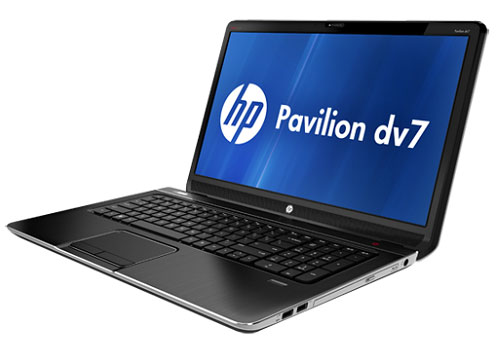 HP is undoubtedly the leader on the PC market when it comes to the number of units shipped. While the quality of some of their laptop models was questionable, most of the time they can deliver high quality machines that are well built, have a great selection of hardware inside and are still relatively affordable.
If you're on a budget and are looking to get the best laptop for your money, the dv6 and dv7 series from HP should be at the top of your list, and if you want the most performance and don't mind a bit of weight and size increase, the dv7 is the absolute best. The latest generation of dv7 laptops – the 7000 series – pack Sandy Bridge processors, lots of RAM, dual hard drives, and the latest graphics adapters – all in an attractive metal alloys housing that looks and feels premium, while the price is as low as it gets for the specs.
Design
The dv7-7000 is a very beautiful laptop. Taking inspiration from the top of the line Envy laptops, as well as the new Spectre Ultrabooks, the laptop looks unique and has a definite premium feel to it. The brushed aluminum lid and palm rest not only make it sturdy, but are also pleasant to the touch, and the chrome accents make it stand out from the crowd. Despite being 17.3 inches across, it's pretty light at 3.2 kg and it feels very sturdy, as well – you won't fear it cracking or bending when you lift it with one hand, that's for sure. The keyboard and touch pad are pretty basic, but they do their job just fine – unless you really need extra multimedia keys or a bigger touchpad, I believe you'll be very happy with what the dv7 offers.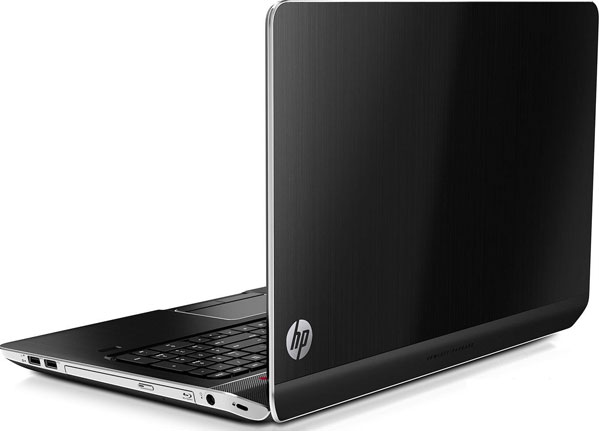 Hardware features
Where the dv7 really shines is the hardware – it's going to be very hard to find anything similar for the price. HP didn't skimp on anything – they straight up offer the latest Ivy Bridge processors, as well as the Kepler-based GeForce GT 650M graphics adapter in the higher end configurations. The Fermi-based GeForce 630M is also great for any applications, but even if you go with just the integrated Intel HD Graphics 4000, you won't be disappointed (Intel's new GPU can play Skyrim and GTA IV at decent frame rates, which is impressive to say the least).
You won't have any issues with the processor performance – even the base model's dual core Sandy Bridge Core i5-2450M is plenty enough for any tasks, including games and even video editing. For comparison, the i5-2450M is faster than the desktop Core 2 Quad Q6800, Q8300, AMD Phenom II X4 and pretty much any desktop or mobile Core 2 Duo – if you can't tell, that is some impressive performance!
If you want even more performance, you can go for the faster dual core Core i5-3210M or i5-3320 processors, which are faster and should use less power thanks to the new Ivy Bridge architecture, or you can go straight for the Core i7-3612QM quad core, which is among the fastest mobile processors on the market – you'll find it difficult to fully use it unless you do some professional 3D or video rendering, though.
You also get up to 16 GB of DDR3 RAM, two internal hard drives or SSDs, with the ability to add an mSATA cache or even full SSD (when they finally hit the market), and a BluRay drive, which can be replaced with yet another hard drive using a special caddy.
Unlike many other laptops, the dv7-7000 series packs a very nice display and audio system. The display is a 17.3 inch LED backlit unit with a 1600×900 or 1920×1080 resolution and 700:1 contrast ratio (which looks simply great), and the audio system is provided by Beats by Dre (HP have been using them for the Envy line for a while now), with the three speakers having their own enclosures for the best sound and the special software providing a lot of flexibility when it comes to the audio output (including via the line out and headphones jacks).
Technical Specifications
| Specifications | HP dv7t-7000 Series |
| --- | --- |
| Display | 17.3 inches, LED-backlit, 1600×900 or 1920×1080 pixels |
| Processor | Core i5-2450M, i5-3210M, i5-3320M or Core i7-3612QM |
| RAM | Up to 16 GB of DDR3 RAM |
| Graphics Adapter | Intel HD Graphics + NVidia GeForce GT 630M or GeForce GT 650M |
| Storage Space | Up to 2 TB of storage space (2 HDDs) + optional 32 GB mSata SSD cache drive |
| Optical drive | DVD-RW, BluRay Player, BluRay Writer options |
| Connectivity Options | Gigabit Ethernet, 3 x USB 3.0, 1 x USB 2.0, HDMI out, VGA out, SD card reader |
| Battery | Li-Ion 6 cell standard or 9 cell extended battery (up to 5 and up to 10 hours battery life, respectively) |
| Dimensions and Weight | 41.6 x 27.4 x 3.14 cm, 3.2 kg |
| Operating System and Software | Windows 7, Norton Internet Security, HP Games, Beats Audio software, HP WebCam software, HP utilities |
Software
HP ships the dv7-7000 with Windows 7, a 60-days trial version of Norton Internet Security 2012 suite, as well as quite a few utilities of their own. Depending on whether you like to install your own software, that can be a good or bad thing, but fortunately for the power users buying this laptop, you can remove everything relatively easily. Windows 7 is a great OS for laptops, but you will also be able to take advantage of Microsoft's £40 upgrade to Windows 8 Pro if you so wish.
Price and Availability
You can buy the base model and upgrade it with third party components for the best savings, or you can buy the higher end models and not worry about upgrades for a long time. The laptop is already available at most major stores, so if you're looking for a well-built, high performance laptop at the best price, the HP dv7t-7000 series should be the first thing you check out.