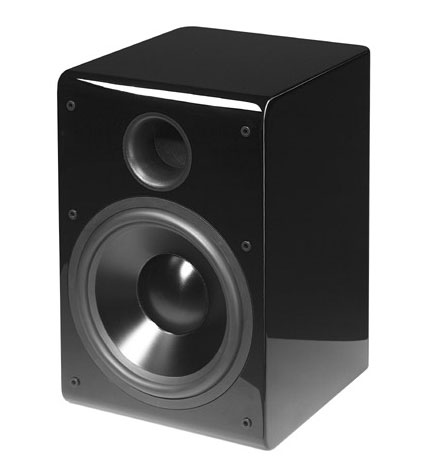 NHT has produced high quality audio devices since 1986. The company's approach when creating their products is simple: great sound quality doesn't have to be prohibitively expensive. Many wonder whether this holds true for the NHT SW12 subwoofer. With a manufacturers suggested retail price of $750, it's still affordable for anyone investing in a high quality audio system for their home. But just how well does it perform in a mid sized room? Let's first take a look at some of its features:
The Subwoofer Design
Just like a few other NHT home subwoofers, the SW12 comes in a bass reflex design. The product has received a lot of positive comments from users that were looking for a subwoofer that not only performs well, but can look beautiful in any environment. The SW12 comes in a glossy black finish, which will be well suited in any room.
There is something unique about the way the cabinet is designed. While not noticeable at first glance, it is not symmetrical. By looking at the side, we can see that the front edges are round, while the ones on the side are square. This means that no matter from which angle the subwoofer is viewed, it will look modern and stylish.
But with high end audio devices, style isn't the only thing that matters. The overall quality of the construction is also an important element. The cabinet's interior is lined with Polyfill and the internal wiring is covered in foam for better protection. The amplifier found in the case is surrounded with high quality plastic and securely fitted to the cabinet. If you want to place the cabinet on a hard surface, you should know that there are no feet attached to the cabinet. For this, NHT has supplied rubber feet that you can stick on, but they can come off quite easily if the cabinet is pushed.
The SW12's Performance
This subwoofer has been tested both with music and as part of a home theater system. In both cases, it has performed quite well for its price range. There were a few undesirable sound artifacts heard at higher playback volumes, such as port chuffing. But these would virtually disappear at slightly lower playback levels, especially when used in a home theater application.
In conclusion, the NHT SW12 subwoofer offers very good performance in a mid sized room, plus is of a solid and stylish design that will be well received in almost any home. For the quality offered by this product, the price also seems quite reasonable.