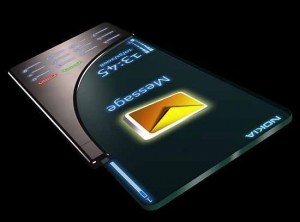 Nokia has always been at the forefront of cell phone technology. An area where Nokia has focused much of its attention these days is on cell phone concept designs.
Since there are lots of competitors in today's cell phone market, most cell phone manufacturers design concept phones to entice their customers or would be customers to stay on with their brand.
One of the new concept phones by Nokia which has garnered a lot of attention is the Nokia 2030. This Nokia 2030 phone was designed by Jim Chan.
Jim Chan is an industrial designer who specializes in concept realization and development. He has a knack for digital machines and eyes for details. A graduate of Georgia Institute of Technology with a Bachelors of Science in Industrial Design. He is currently living in Atlanta, GA.
One of the main ideas behind the Nokia 2030 was to design a phone that would allow for fast messaging. A phone that is suited to the younger generation.
The Nokia 2030 phone measures 2×4.75×0.25 inches. It comes with a full color display and an illuminated touch sensitive screen. It also comes with a titanium shell to protect the phone from unwanted scratches. With color films located at the back of the phone, you will be able to change the color of the display to suit your taste.
The Nokia 2030 has a futuristic look and feel to it. Without a doubt, if this phone makes it into the market, a lot of people will be lining up for it.