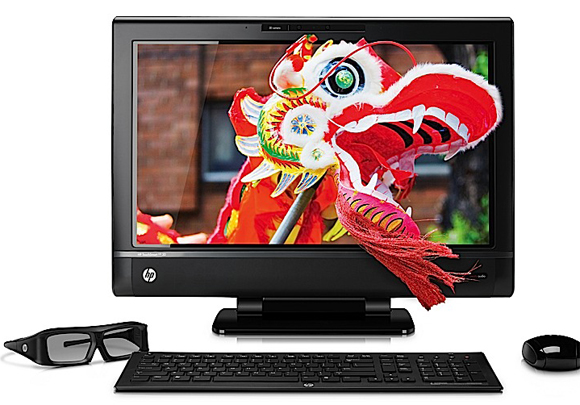 Desktop PCs are a dying breed, having been relegated to tasks that require much more processing power than even a quad core laptop can do (and there aren't many of them – heavy HD rendering and CAD applications are the only things I can think of at the moment), gaming at the highest quality settings or heavy overclocking – otherwise, people just get a laptop.
The latest lines of desktop PCs all feature the computer itself integrated into the monitor – an all in one package, which makes it occupy less space and use fewer of those darn cables that are always messy on or under the desk. HP is one of the biggest manufacturers of all in one desktop PCs (in fact, they've been among the first to release this form factor), and of course, to keep up with the times, they have now announced the TouchSmart 620 – an all in one desktop computer with a touch screen and 3D viewing AND recording capabilities.
Frankly, I'm surprised it took so long for someone to actually release such a product – with all the 3D craze around, it has been a long time coming.
The TouchSmart 620 is basically a copy of the company's 610 model, complete with a sliding touch screen that reclines downwards to 60 degrees, making it useful for browsing photos or reading Web pages (or doing your homework on the display, I don't know :-), but not for digital artists, since there's no pressure sensitivity and the touch capabilities are pretty basic). Of course, it's got the 3D technology integrated into the display, with active shutters on the glasses (yep, it's not glasses free 3D) and a dual HD web cam array for 3D video chat (a pretty nice concept, actually) or filming yourself in 3D and I guess sharing that with other people.
The basic model will come with a Sandy Bridge Core i5 quad core CPU, 8 GB of DDR3 RAM, 1.5 TB of hard drive space, an AMD Radeon HD 6650 graphics adapter with 1GB of video RAM, and an integrated TV tuner. The ports list includes USB, audio jacks, an SD/MS card reader, plus a slot loading DVD-RW. You may have noticed there are no HDMI ports – yes, you'll have to pay extra for that.
Needless to say, 3D and a touch screen are a pretty weird combination – obviously, this all in one PC is intended for all in one work and play, but it kind of half-asses everything, with the 3D being pretty useless at any distance longer than ~3 feet due to the small display size, and the touch screen having only basic features (only two point multitouch) and no pressure sensitivity. Plus the lack of HDMI in ports on the basic model is really weird (especially since the TouchSmart 610 has two of them) – how are people supposed to plug in their PS3 for some gaming sessions?
Overall, the computer is pretty interesting, but unless you really love watching 3D movies by yourself at your computer screen or you have someone to do 3D video chat with, I don't see the point of getting the TouchSmart 620, especially when the 610 model is cheaper, better equipped and costs much less.