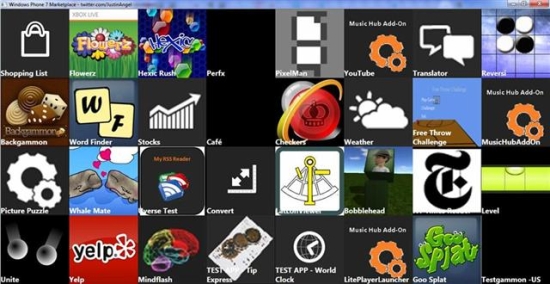 Microsoft really seems to have hit the jackpot with their new Windows Phone 7 OS. It is better than its predecessor, Windows Mobile, in every way, and not only can it keep up with the technologies and features required by today's standards, it can actually be ahead of them.
The two most obvious examples are the excellent support for games and media (with DirectX 9, Shader Model 3, and integrated Zune HD media software and Xbox Live gaming engine) and the amazingly innovative interface, which no one can say was copied from other companies (like they said about the Windows 7 taskbar, for example).
If you're planning to get a Windows Phone 7 smartphone, you'll most definitely want to get yourself a few useful apps, and you'll be glad to know that Windows Phone 7 has a much more improved apps marketplace that takes after that for the iPhone and Android, and there are already over 2,000 apps listed there, most of which are pretty high quality and a lot of which are also free. Here is a list of the best Windows Phone 7 apps that you should install and try out as soon as you get the chance.
Youtube. The official app for the world's largest video sharing site is of course, among the first things you should install on your phone, if it didn't already come with it pre-installed. If you ever want to watch any trailers or music videos on YouTube, there is no other way to do it than through this app.
Adobe Reader. PDF files are the most widespread format for documents that do not need editing and forms that need to be filled. If you want to have those capabilities on your Windows Phone 7 device, you should definitely install the official Adobe Reader app from the marketplace – no other OS has it!
Twitter. Twitter has also been among the first companies to release their app for WP7, and that's a good thing. It means that the bigger companies actually care about the platform and users won't be left in the wind like Maemo and N900 buyers. Anyway, the Twitter app lets you do anything you want on Twitter, including post and read replies (in a threaded format, which is easy to read)m upload pictures and videos and visit links using the integrated browser.
Facebook. Facebook is already a very important part of everyone's life. There are very few people (in the US, at least) that don't have an account there, and it's the main point of start on the Internet for many of them (Facebook recently got ahead of Google by the number of monthly page views!). The official app for Windows Phone 7 lets you connect with friends and communicate with everyone from wherever you may be, on the go.
IMDB. IMDB's official app for Windows Phone 7 is a great source of information about the latest movie releases, theater show times, trailers for upcoming movies, and much more. You can read celebrity and actors news, can discuss the movie you just saw and read other people's reviews and do a lot of other things, from one single app. This is actually better than Flixster, I'd say.
There are a lot of other great apps on the marketplace, but the above ones seem to be the most important when it comes to our modern day to day life. Be sure to check them out whenever you can and don't forget that you can always open the marketplace hub and find even more great apps with a simple search!