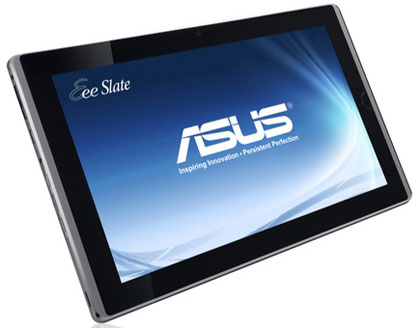 While the iPad and Android tablets are all the rage nowadays, the good old Windows operating system is definitely not out of the loop and is actually making a comeback to the tablets and mobile market just as we speak. If you didn't know, the first tablet PCs were running Windows almost a decade ago, so it's definitely not something Apple invented – the iPad just brought a tool previously restricted only to corporations and business professionals with money to the general public, creating a new market niche along the way.
But Microsoft never stopped thinking about the tablet segment, and their latest (and possibly greatest) desktop OS, Windows 7, has a lot of features implemented that make using a touch screen easier in any apps. And it's not a resource hog like the older Windows Vista, so it doesn't need some super high end hardware to run – it can work perfectly smooth and without a hitch on a cheap 1.6 GHz Atom processor.
ASUS EEE Slate EP121 – the fastest Windows tablet PC
That doesn't mean that there is no need for high performance processors on tablet PCs, and the latest device from Asus demonstrates that – their new EEE Slate EP121, aimed at the entertainment and enterprise markets (yep, they're going for both at once) features the new Core i5 470UM processor, up to 4 GB of DDR3 RAM and a fast 32 or 64 GB SSD hard drive, aiming to be the fastest tablet in the world.
The dual core i5 runs at 1.33 GHz and has up to 4 TurboBoost increase bins (133 MHz each for a maximum of 1.86 Ghz, which definitely makes it faster than any Atom out there at a very low power consumption. Coupled with the fast DDR3 desktop-grade memory, this makes the EP121 the single fastest tablet out there, so I guess it's "mission accomplished" on that front for them.
A beautiful 12 inch IPS display with stylus support
The display is a pretty big 12 inch, 1280×800 unit, made using IPS LCD technology, which gives it almost perfect viewing angles and amazing color reproduction. It's coupled with a Wacom active digitizer, which lets you control what's on screen not only with your fingers, but also with the integrated stylus – perfect for taking notes, drawing something or using a more precise control method (for the small buttons of various Windows apps, for example).
The tablet has a full-sized SD card slot, which lets you increase the memory to 32, 64 or more GB with an SD card, and it supports SDXC cards, for when the 128 GB cards come out. There is a full sized HDMI out and USB ports, a 2 megapixels camera with LED Flash on the front, audio in and out ports, an internal microphone and stereo speakers.
With all of that, the tablet manages to weight only 1.16 kg and have a pretty nice size at 312x207x17 mm (it's slimmer than the HTC Touch Pro smartphone and almost as slim as the T-Mobile G2, for comparison). The price mark will start at $1000 (and it's already available for preorder), which I think it's mostly due to the i5 and IPS panel, but it's definitely too steep for any normal user (you can get a great smartphone AND tablet running Android at that price).
Still, professionals who need to use Windows software on a daily basis and want the best performance out of their tablets will definitely like the EEE Slate EP121. For everyone else, Asus is releasing a much cheaper Android based 10 inch version at about the same time.