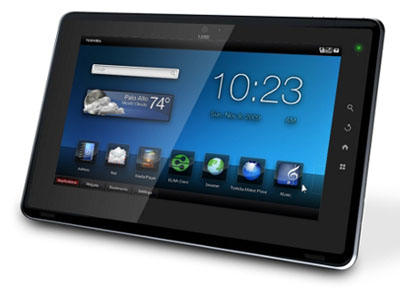 The tablet market is growing at an amazing rate and is expected to bring in over 1 billion dollars in revenue in 2011, with the number getting bigger in 2012. After the iPad basically created the niche, a lot of manufacturers rushed into t for the sales and profits, which is only a good thing for the end users.
Just recently Motorola announced and even demonstrated their new dual core Tegra 2 tablet, the Xoom, which is the evolution of tablets, as it features everything users wanted in the iPad and has enough performance to accomplish any tasks, while still having a 10 hours runtime on the battery – something that laptops and netbooks could never accomplish with their power hungry components.
Along with such names as Panasonic, Acer and LG, Toshiba has also shown off their own tablet prototype at CES 2011, and it was arguably the best received one of the bunch (second place after the Xoom, though).
The Folio 100 is a 10 inch wide screen (with an amazing resolution of 1280×800) tablet featuring the NVidia Tegra 2 dual core SoC and a lot of unique features that will definitely make it a great competitor to the other players on the market. If the performance of two 1 GHz cores and a dedicated GeForce graphics adapter aren't enough to convince you to buy it, the Folio 100 follows up with a full sized USB port (as well as a mini USB one), a HDMI out, a full sized SD card slot (which means cheaper and more memory, as you can get a good 32 GB card for only $50 or a big 64 GB one for about $150 if you need the space, with 128 GB SD cards being on their way) in addition to the 16 GB of memory onboard and a rubberized, spill resistant and shock proof replaceable back cover – something you really don't see on tablets from other companies.
The ruggedized angle that Toshiba is taking is definitely a big plus for them, and a full sized SD card is such a no-brainer it's a wonder why nobody else thought of it. In addition, the Folio 100 will most probably have an optional integrated 3G modem for those who want to have an Internet connection anywhere, a 5 megapixels camera with 720p HD video shooting capabilities on the back and a 2 megapixels one for video calls on the front, a user replaceable battery if you'll be staying outside of the grid for longer than usual, Wifi N support, GPS and all the other bells and whistles you can find on other devices.
The Folio 100 will ship with Android 3.0 Honeycomb (Google actually denied Toshiba permission to use their apps with the older versions of Android due to the high screen resolution) in the first half of 2011 – sometimes this spring or summer – and will feature some of Toshiba's own apps, like the Bookplace eReader and Toshiba Places, along with all the other apps needed for a "Google experience" device.
This tablet is definitely going to be a success, because in addition to the stuff you can already find on the iPad and Galaxy Tab, it sports a full USB port (useful for a keyboard, mouse, flash drive or other peripherals), full SD card slot (for those who want as much memory as possible) and of course, the ruggedized frame, which is also swappable – excellent for those work in the field. We hope that Toshiba finds the right distributors (like AT&T or T-Mobile for example, since Verizon already has the Xoom), though, as without them the number of sales will be seriously crippled.