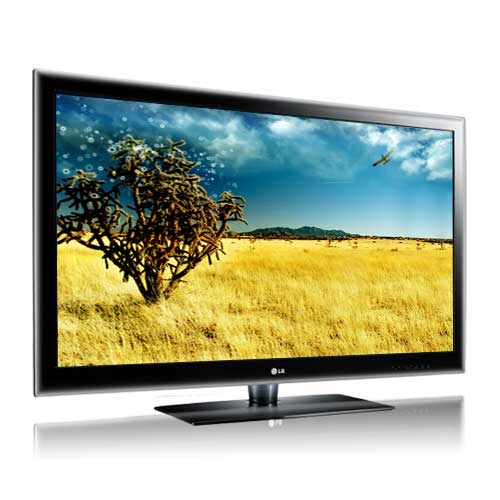 Most TVs that come out now seem to subscribe to the let's make it thinner design mantra. Thinner is better they say, and looking at the 32LE5500 I'd be inclined to agree. Anorexic would be the term I'll be using liberally to describe it, and the South Korean firm has managed to make the 32LE5500 thin enough to stand out although not too thin that it makes it a chore to connect arid actually use the thing.
As I mentioned thrice now, the LG 321E5500 is supermodel thin, coming in at only 1.2-inches. The set is tastefully designed and crafted, and has a nice rosewood color on the edges. What is becoming the norm for TVs of this type, the manual controls are all located on the front of the bezel, are touch sensitive and appear when you run your fingers to them, and disappear after a bit of time has passed. The back panel has all the relevant connections you'd ever want, including 4 HDMI ports. The included remote control is easy to use, but it would have been better if it had backlit illumination so you wouldn't be groping for the right key combination in the dark.
Being an LED TV, the 32LE 5500 is generally more power efficient than regular LCD TV models. If that's not enough, the TV also has an energy saving mode that will further cut down power consumption for all you power misers out there. Other features include TruMotion 120Hz, an anti- motion judder tech and NetCast, which basically gets you online via YouTube, Picasa and AccuWeather.com. One nice touch is the ability to adjust the amount of judder reduction.
Another feature that'll certainly endear the 32LE5500 to children are the built-in games. The games aren't sophisticated by any stretch of the imagination, but as I said, it's a great distraction for the kiddies.
The 32LE5500 was able to pick up on our local channels right away. and to be honest I was taken aback by the picture clarity, something we'd always had a problem with other units. Setup took less than five minutes, and the 32LE5500 was able to pick up all of the channels that our provider offered.
The 32LE5500 uses a technology called local dimming, which basically means that the TV is able to control how much light the individual LEDs put out. The 32LE5500 is an edge-lit model, meaning that the illumination for the picture comes from the edge, not from the back. While the 32LE5500 had good black performance, better than say a regular LCD screen, I did notice stray illumination and blooming in dark scenes in the movie Black Hawk Down. On the upside, the 32LE5500 had very good color reproduction, and is capable of reproducing accurate skin tones.
Verdict
The set is tastefully designed and crafted, and has a nice rosewood color on the edges.
Specs
Technology: LED
Screen Size: 32-indies
Dynamic Contrast Ratio: Measured in millions, too high to count
HD Capability: Full HD
Connections DVI, HDMI, Component, USB
What's HOT
Ability to go online through NetCast
Slim and elegant design
Good color reproduction
What's NOT
Some stray illumination and blooming in dark scenes