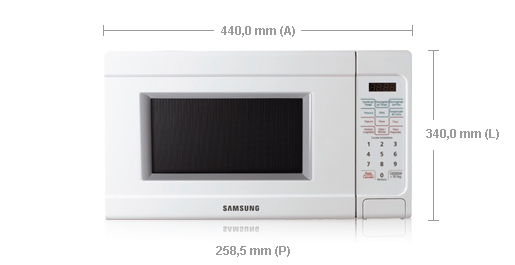 Had I been given a microwave while I was living at a dorm during college, I'd probably had better- tasting meals other than instant noodles or tuna straight out of a can (which I actually used to heat with a rice cooker.)
Now for most people (especially those with gas stoves), you may think that microwaves are simply for reheating meals and not so much for cooking. You turn a knob, set it to the number of minutes on the timer and you're done. But these days, microwaves are becoming more intuitive. One such model is the Samsung AMW73F-W, a simple and stylish microwave oven that brings practicality and style to your kitchen.
On the right hand side of the microwave door are the touch control buttons and a push button instead of a handle to open the door. The touch control buttons replace your typical timer and temperature knobs with a numeric keypad for better time and temperature accuracy. But this is only for manual heating. If you want to make life easier in case you're not sure just how long something should be heated for, the AMW73F-W comes with eight auto-cook functions that can assist you so you're sure not to over-heat anything.
You may need to read the manual in order to maximize the Samsung microwave's benefits as it comes with a highly intuitive menu that allows you to really customize your cooking needs. Other microwaves will allow you to only set the timer and press start. But with the AMW73F-W, you can adjust the temperature (it comes with 11 power levels of cooking starting from 0 to 100% power) as well as identify the correct temperature and time of cooking/defrosting according to weight.
There are also six dedicated buttons that make up the Instant Menu for popcorn, potato, pizza, frozen vegetable, beverage and dinner plate. Assuming that these six foods are the most microwavable, the Samsung AMW73F-W helps you with an automatic time and temperature setting. What multitasking home-maker would not want that?
I have a curious little three-year old who likes copying me in the kitchen. Luckily, the Samsung AMW73F-W comes with a lock function, which renders the microwave unusable.
Now I was able to test the microwave's powers by making myself an actual breakfast of potatoes, scrambled eggs and fish fillet. I was afraid that the microwave would undercook my potatoes since I'm used to boiling them, or that my eggs would come out raw, and my fish may come out rubbery. But surprisingly, my food came out the same way it would've come out had I used a stove. The possibilities are endless. With the Samsung AMW73F-W, you're sure to be on your way to making gourmet meals in no time.
What's HOT
Instant Menu dedicated buttons
Time/Weight Defrost functions
Power level selection
What's NOT
May be complicated if you don't read the manual
Verdict
Samsung AMW73P-W a simple and stylish microwave oven that brings practicality and style to your kitchen.