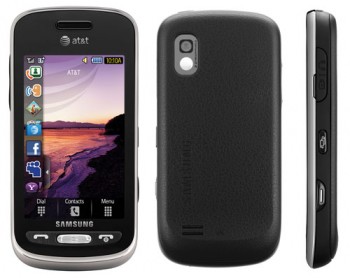 Over the past few years, Samsung has really propelled ahead in the field of mobile phone and today Samsung is coming up with new range of cell phones that are power packed and innovative in their own sense. The Samsung Mythic A897 is one such phone that is slim, lightweight and loaded with a lot of options that you might be happy to use. If you are looking for a multimedia phone then Samsung Mythic will not disappoint you for sure. The design of Samsung Mythic looks very much like a normal touch screen phone but there are lots of options inside this little gadget.
Samsung Mythic might look like a normal black color touch screen phone on the front but to make it look distinctive Samsung has added a burgundy back plate that add to the elegance of the design. The mobile phone is almost 5 inches tall and almost 2 inches wide. However, it is lighter in weight compare to other Samsung touch screen mobile phones. The Samsung Mythic is also known for its slim design and the thickness of this mobile phone is only half an inch thick.
On the front panel, Samsung Mythic showcases a 3.3 inch touch screen display that supports 262,000 colors and has 360 x 640 pixels resolution for sharper pictures. To make the mobile more user friendly Samsung has also provided with Samsung TouchWiz interface that allows the users to use all the gadgets and widgets available in the phone. The mobile phone has three different home screens but consumers can change it as per their preferences. At the bottom of the home screen there are shortcut options for the consumers from where they can access applications that they use often. This helps in quick browsing and mobile experience.
To make the browsing experience better, Samsung has allowed the users to customize the menu page as well. Hence, customers can arrange the menu page as per their requirements, but there are some applications that cannot be removed. The phone has a good touch response and the screen recognizes handwritten as well as QWERTY touch pad. There are three physical buttons right below the massive screen which are for Talk, Back and End button.
The 3.5 mm headphone jack sits on the top of the phone along with charger jack. Samsung Mythic also has 3 mega pixel camera and other regular touch screen mobile phone features that are essential.