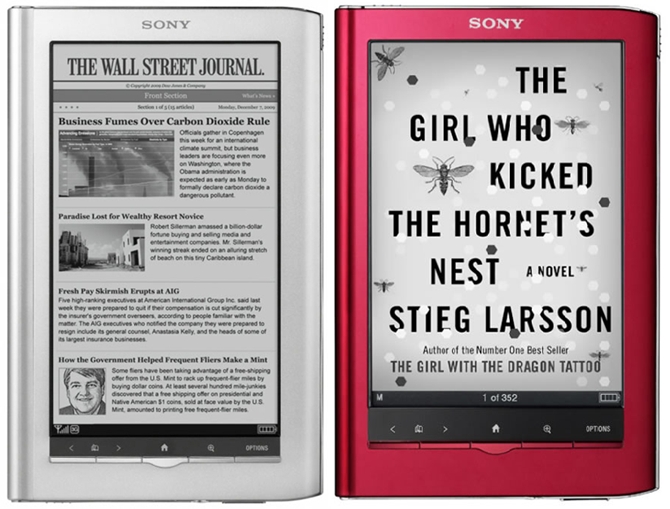 People today are very much on the move all the time and therefore they are always on the hunt for devices that can help them carry all their favorite things in a compact way.
The trend of e-readers is quickly dominating the technology market and therefore we see a huge wave of e-readers being launched in the market. The Sony Reader Pocket Edition PRS-350SC is one of the latest e-readers that have become quite a craze in the market. The best thing about this e-reader is its size and weight.
This gadget is very compact and light weight and therefore it is quickly racing up the popularity charts.
The makers of e-readers are always coming up with better features that can help the readers to enjoy their reading while they are on the move. Here the company has tried to cut down the size and weight of the Sony Reader Pocket Edition making it easier for the users to carry it along wherever they want it.
Hence, the PRS-350SC is just 5.64 ounces in weight which is very light compare to other standard pocket e-readers available in the market. The gadget is 5.71 inches tall and 4.11 inches wide and just 0.33 inches deep making it very compact. However, some readers might not be happy with the screen size that has been provided. Hence, people looking for the screen size will be a bit disappointed with PRS-350SC.
However, the readers have another good thing to rejoice about and that is the resolution that they see on the screen. Sony has come up with a ground breaking technology that does not make the letters look too dark which hurts the eyes. Hence, readers will enjoy this latest e-ink e-reader which is something innovative and there are not many models in the market that has this kind of technology embedded in it.
The touch screen is good and responsive and therefore you don't have to tap hard on the screen every time you want to flip a page. You can markup text, and flip pages with the swipe of your finger. The stylus is good and functional and helps you to make your things easier. The e-reader has 2GB memory which means you can store up to 1200 e-books.
The battery of PRS-350SC is also excellent and can last up to two weeks on a single charge. The gadget also has multilingual dictionaries for better understanding of what you read. It has a USB 2.0 connection and can read and support PDF, MS Word and other text format files.