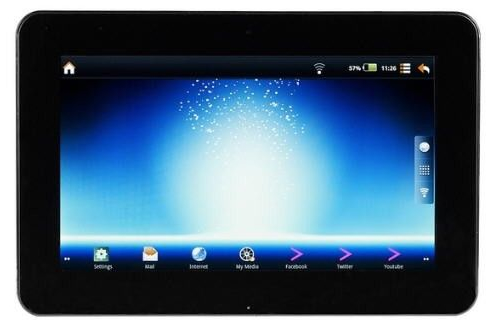 If you like the idea of a full-size Android tablet but are put off by the price of models such as the £429 Samung Galaxy Tab, a less high-falutin' brand name may catch your eye.
The Advent Vega costs £249 and comes with multitouch support – not something you'd necessarily expect from a budget tablet. It's powered by a 1GHz nVidia Tegra 2 dual-core 1GHz processor and runs the 'Froyo' version 2.2 of the Android operating system.
Advent the own-brand of PC World and Dixons, may not have the cachet of a Samsung or even a Viewsonic, but brisk pre-Christmas sales of this tablet have proved there's plenty of interest in a full-size tablet at a relatively low cost. In fact, at the time of writing it was sold out.
We can well understand why. With a promised 10 hour battery life, 512MB of RAM and a 4GB Secure Digital memory card on which to store your Android apps, it's not a bad deal. The Vega comes with Wi-Fi connectivity, a pair of USB 2.0 ports, an HDMI connection, head¬phone jack and a 1.3Mp webcam. We were pleased by its fairly decent build quality – a real step up from the no-brand tablets and iPad wannabes that we've seen on sale at budget web stores.
The 10.1in capacitive touchscreen is not quite consistent across the display -it gets progressively less accurate at the edges – but PC World has certainly had a good stab at building its first tablet. How¬ever, you can't rotate the display and it's not a particularly responsive device. Even so, this 700g, £249 tablet is priced to move and did brisk Christmas 2010 sales.