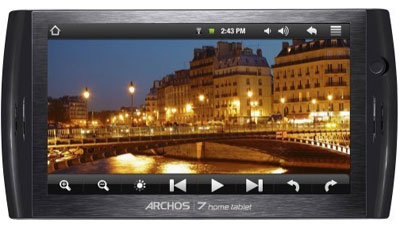 Archos has been cranking out innovative portable touchscreen media players for years, but thay haven't always stood out from the crowd. One reason for that has been a lack of compelling software – and Archos was quick to realise that Android could change all that at a stroke.
The Archos 5 Internet Tablet took an existing device and added Google's mobile operating system. The Archos 7 takes the pairing a step further into multimedia territory. However, improvements over its prede¬cessor are few and far between.
Encased in a 203x 106x 13mm chassis, this sleek little tablet weighs in at just 388g. The Archos 7 sports the same 480×800-pixel display as its smaller sibling, so individual pixels are spread across a larger area. Given the dazzling visual display of other tablets, we felt shortchanged by this. Even so, the Android 1.5 interface shines on the Archos 7. The 7in display is well suited to navigating a wide variety of applications, from web browsing to media playback. In short, Archos' switch to Android pays off.
High-definition video looks beautiful on the Archos' glossy screen – aficionados of the brand will expect a strong list of supported video, photo and audio formats and the Archos 7 certainly doesn't disap¬point. The player supports 720p Mpeg4 HD video as well as MPEG-48 AVI, H.264, WMV, MKV and M-JPEG. You can also download a plug-in to support formats like Mpeg2, 720p WMV HD and VOB straight from the device.
Music playback options include stereo MP3, WMA (including DRM-pro-tected files), WAV, unprotected AAC, Ogg Vorbis and FLAC. A downloadable plug-in supports playback of stereo AC3 files.
The Archos' internal speaker is fine if you're listening to film dialogue, but its external speaker is less than stunning, so headphones are still a must. Onscreen controls allow you to pause, rewind, or jump forward in a movie with ease. We also like the fact you can prop up the tablet using its (rather flimsy) kickstand so you aren't stuck with viewing the action at arm's length.
Content can be side loaded on to the Archos 7 via the microSD card slot – buy¬ing the cheaper 2GB version of this tablet and doing so is the most sensible option. However, you can also synchronise the device with your PC's multimedia library or download videos, music, web radio and web TV from the Archos Media Club store over its 802.lln Wi-Fi connection.
There is a Bluetooth 2.0 module for syncing to mobile phones, but turning on Bluetooth will further degrade the Archos 7's battery life, which is listed at 22 hours for music and seven for video under ideal conditions.
Of course, being an Android device, you should be able to take your pick of apps with which to customise your touchscreen tablet device. You can, but the older 1.5 version of Android that this tablet runs means supported apps are rather limited. The Android Market is closed to you, so you need to make your choices from third-party Android sites. This – and the almost certain lack of future upgradability – are the biggest drawbacks to what is an otherwise quality choice of tablet.
Thankfully, some of the most useful apps come preloaded. As well as the music, photo and video viewer, there's an e-book reader that can be used to import books from an SD Card. Again, file format support is extensive and, as on the Sony Reader range of e-book devices, the Aldiko Reader software can be used to borrow e-books from your local library.
Accessories available for the Archos 7 allow it to be used as a digital video recorder, scheduling TV content. You get a one-year subscription to the DVR pro¬gram guide along with the $140 module.
Another good option, the $50 Battery Docking Adapter, lets you play content from the Archos on your TV. It also includes a USB 2.0 connection for your PC, and can allow the player to serve as a USB host for cameras and other mobile devices. This comes in handy for quickly transferring photos on to the player.
Though limited by its older Android OS, this intriguing tablet/portable media player successfully grafts Android on to an existing, proven, hardware design.