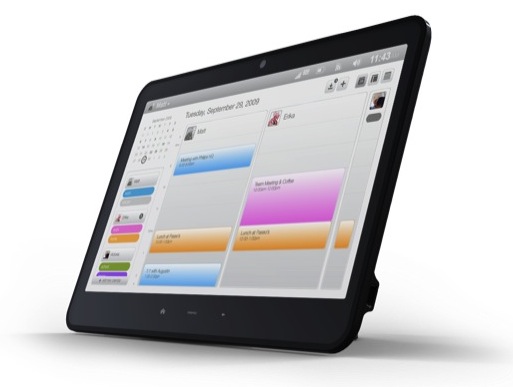 While there have been more than enough new announcements of your standard 7-10 inch Android tablets and iPad "killers", there are always companies that are willing to take it further and experiment with things that no one thought of before. One of the most interesting examples, in my opinion, is ICD with their Vega tablet running Android.
A unique Android tablet with a 15.6 inch display
The main difference between the Vega and other tablets on the market is its 15.6 inch capacitive touch screen (with a 1366×768 resolution), which is obviously too big to be as portable as the iPad, Galaxy Tab or the Motorola Xoom, but which definitely has its advantages. The ICD Vega is not supposed to be a portable device, but a replacement for your laptop or desktop for tasks that are light on resources, like Internet browsing, watching movies, listening to music and playing some games.
Of course, thanks to the thousands of apps on the Android marketplace, you can easily do many other tasks, as well. Document editing, photo manipulation and even music creation are not beyond the capabilities of the device.
NVidia's Tegra 2 and a lot of features for any application
The ICD Vega is powered by NVidia's new Tegra 2 platform, which practically guarantees high performance in any applications, thanks to the dual core processor (each core runs at 1 GHz), powerful GeForce mobile graphics adapter and a dedicated hardware encoder that not only allows you to play back 1080p video without a hitch, but also record it using the integrated camera (a software update is needed for that feature, though).
The Vega has 32 GB of internal memory and an external micro SD card slot, which should prove useful should the user want to upgrade. A 64 GB of total space is more than enough for most people, unless you're planning on storing and watching HD movies every day. A 1.3 megapixels camera is present on the front for video calling, and there's your usual support for Wifi, Bluetooth, 3G/4G data connections (well, that's not that usual, actually, for a stationary device), an accelerometer, FM radio and other goodies provided by the Tegra chip.
There are also 512 MB of RAM, which are more than enough for most applications on the market, but of course, 1 GB would be better on this kind of device. The specs aren't set in stone, so maybe the final version will be upgraded when it finally comes out.
The ICD Vega has been announced way back at the beginning of 2010, and it was supposed to be out for T-Mobile's network in late 2010, but due to some unforeseen circumstances, the release date was moved further down the line, and it is currently unknown when we'll see the device on the market. Still, it is a pretty good computer that is supposed to cost about $500, and at that price, there will be a lot of buyers (especially among the older and the youngest generations, because of the simplicity of use), so we're hoping it'll finally see the light sometime in 2011.