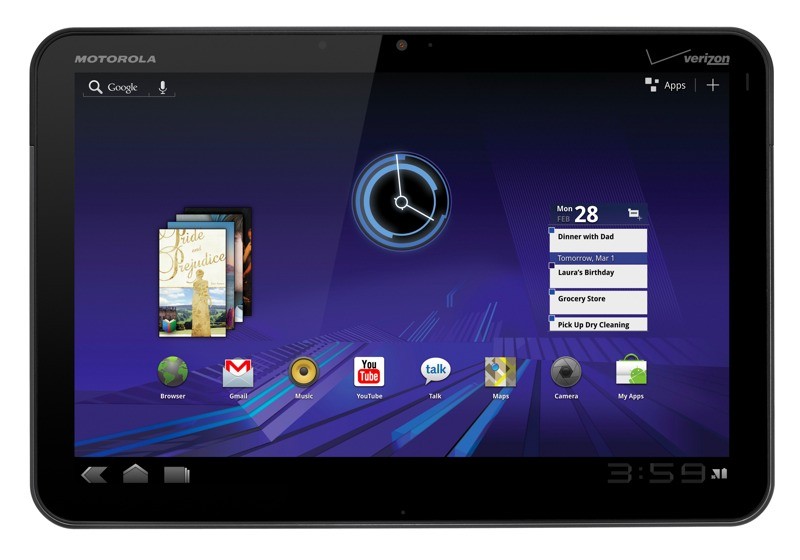 After months of waiting, the much-rumored Motorola Stingray tablet finally got an official announcement: The Motorola Xoom (yes, I also think Stingray would've been better) will be released in the US and Europe in March-April 2011. Thankfully, besides the name, almost nothing else has changed, and we still have the most powerful tablet to be released, running the newest version of Android, 3.0 Honeycomb.
As you may already know, the Xoom is powered by NVidia's first successful entrance to the mobile market, the Tegra 2 dual core System-on-a-Chip (yes, there's also the first Tegra, but it was nowhere near what you would consider successful), which runs at 1 GHz and has the highest performance in games, 3D apps and video acceleration, courtesy of NVidia's extensive knowledge in the field. And the fact that you basically have 2 ARM Cortex A8 CPUs inside the tablet means that no other device will come close to the Xoom's overall performance levels, at least until Apple or Qualcomm releases their dual core solution.
The Xoom was pretty much made official when it was used as a demo platform for the new Android Honeycomb, which it will be running when it's finally released. We've got a taste of the new OS over a month ago, but the new leaked pictures make us want it even more: it looks simply gorgeous!
Aside from the new user interface that was specifically designed for tablets and the virtualized navigation buttons (yep, no more external buttons on the front side – the borders are equally thin on all four sides and it doesn't matter how you pick up and hold the device!), Android 3.0 (possibly coupled with Motorola's custom skin) brings us a pretty cool visual interface that use the gyroscope and accelerometer to change the direction of the objects depending on how you hold the device and from what direction you're looking at the screen (kind of like the Gallery app in Android 2.2, except it works much better). It gives a whole new dimension of interaction with the device, and you really have to see it yourself to understand what I'm talking about.
The hardware specs of the Xoom, besides the processor and video graphics adapter are also impressive: the device has a beautiful 1280×800 10.1 inch display, which makes the one on the iPad and Galaxy Tab pale in comparison, it features built in Wifi N and Bluetooth 3 support, along with GPS, a gyroscope, accelerometer, barometer, light sensor and just about anything else you can think of. It comes with a 2 megapixels front camera and 5 megapixels camera on the back for video calls and taking pictures (which will make you look awkward 🙂 and integrated 3G and 4G LTE support for Verizon's new wireless network. You'll certainly not feel a lack of features in this machine.
There will be 32 GB of onboard memory, which should be enough for most tasks (unless you film and edit HD videos on the go), and there is no external memory card slot. The battery is supposed to be capable of 10 hours of continuous use, which would be really great and it's definitely achievable, as the iPad demonstrated.
From the specs alone, it looks like the Xoom can easily become the next Droid, only for the tablet market, but its success also heavily depends on the advertising and marketing decisions that Motorola will make, so we really hope they don't screw this up. Until it comes out, we'll just have to wait and enjoy our iPads for a while longer…