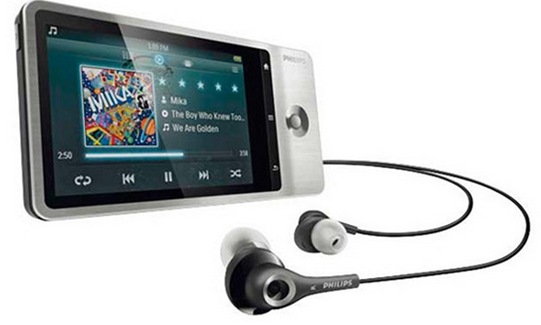 Philips' GoGear Connect comes in both Android and non-Android versions. The Android edition was about to go on sale when we went to press, so we took its sibling for a spin. It's an exceptionally smart-looking portable music and video player with a sharp touchscreen display and a beautiful brushed-metal chassis that fits neatly into a pocket. At 128g, it feels reassuringly weighty in the hand. There's a large, clearly marked Home button to the right of the screen, so no matter how deep into the folder structure you drill, you can always get back to your Home screen with a single button press. Thanks to the touchscreen and Android interface, few other buttons are required – power on the left and volume up and down on the top.
One small niggle with this layout is that volume up is on the left and volume down on the right, which is uncon¬ventional and caused us some accidental ear pain until we got used to it.)
Audio quality was respectable using the bundled earphones. These earphones are rather atrractive but a shade thin and trebly. Switching up to some beefier Teufel headphones unlocked a wealth of unexpected bass potential, however, so consider an upgrade if you can afford it: the player has the power to do its bit if paired with high-end headphones.
Video is the Philips' trump card, since it allows it to show off that excellent screen, which is clear and deals well with rapid movement. And if you've got some HD video, you can use the HDMI connec¬tor to show it on an HDTV.
Overall, the GoGear Connect is a stunning piece of engineering that feels bombproof. It offers decent-quality audio, video, and radio and voice recording. With Wi-Fi and Android apps added to the mix, it seems fair to say the Connect Android will be a tempting proposition.