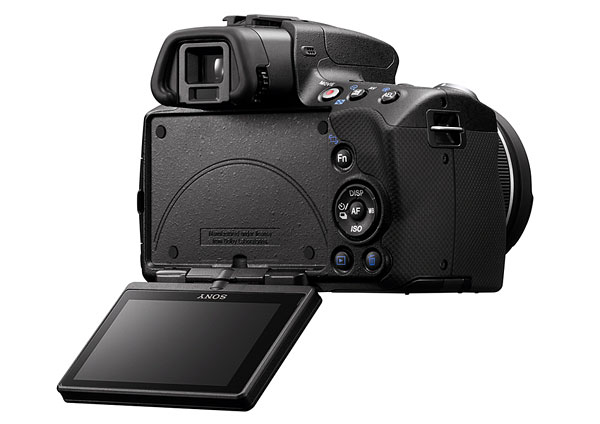 The Sony SLT A55 is one of two new DSLR cameras touting their new Translucent Mirror Technology, replacing the mirror box used in conventional DSLRs with a new mirror box that contains translucent mirrors. Translation: Smaller and lighter cameras. Case in point: the A55 comes up smaller and more than 100g lighter than its conventional A580 and A560 cousins, giving the A55 a fighting chance in an age where a high premium is placed on portability, in addition, the A55 can also maintain phase detection auto focus at all times, with light directed to the sensor array by removing the optical viewfinder.
While light on the shoulders, the A55 feels sturdy and is not in the least bit flimsy even though it is predominantly made out of plastic. It is comfortable to hold, but has a short grip that might not sit well with those with larger hands. The camera scores points in our book for having a clean and strategic button layout that makes it easy for users (even beginners) to start shooting without much hassle. Those familiar with the Alpha series will also note that the swivel screen makes an appearance, something we found extremely useful for overhead video or still shooting at awkward angles.
The A55 shoots up to 16.2 MR and is able to shoot at a fast 10fps. Notably, it can also shoot video at 1080p HD resolution. Performance wise, the camera showed accurate focusing with its 15 point phase detection AF system, and accurate metering. Putting the camera on auto white balance also yielded mostly accurate color tones. The A55 handles noise well in the lower ISO range, but shows a visible loss of detail and noise from ISO 800 onwards. This is not to say that photos taken above that are not usable; they still are, provided you don't pixel peep.
The A55 also sports some fun and cool features like Hand held Twilight, sweep Panorama, and Auto+ (which includes Auto HDR). These are easily selected by turning the jog dial where usual modes like Aperture Priority, Shutter Priority and Manual are found, with the Auto and Auto+ modes, the camera makes it simple for anyone to shoot without so much so of worrying about choosing ideal parameters, our favorite casual mode to shoot on was Sweep Panorama results were mixed and varied greatly with type of landscape and hand coordination, but generally, photos turned out quite well.
However, you might want to bring along two batteries for a full day of shooting, especially if you prefer to rely on the LCD screen to shoot as it contributes heavily to battery use. Without an optical viewfinder, the imaging sensor provides a live view image through an electronic viewfinder, of which can be switched on at all times by simply pressing on a neighbouring Finder/LCD button. If not, you can rely on the automatic switch sensor below the EVF which will immediately detect your eye and switch from the LCD screen. Another plus point: the EVF on the A55 is sufficiently bright and clear.
The compact and user friendly Sony A55 is generally an all rounder with some fun modes thrown in for good measure you have some pretty cool features like the Sweep Panorama and the swivel screen. Performance is mostly positive with some noise control issues in the higher ISO range, but otherwise, the A55 is a good camera to start off with.
Sony Alpha SLT-A55 brief review specs:
* 16.2MP (effective) APS HD CMOS sensor
* Fixed, pellicle-type semi-translucent mirror
* Maximum ISO 12,800 (with a quasi-ISO 25,600 'Multi-frame NR' option)
* 15-point phase-detection AF array with 3 cross-type AF points
* Electronic viewfinder with 1.15 million dot resolution
* Built-in GPS
* Electronic level in EVF/LCD with pitch/roll indicator
* Dual-purpose Memory Stick/SD card slot
* 10fps continuous shooting rate
* 1080p AVCHD movie mode with continuous AF
* Articulated 3in 'TruBlack' LCD with 912k dots
* socket for external microphone
* 2x magnification mode in live view
* Face-detection AF (focus via nearest phase-detection AF point)