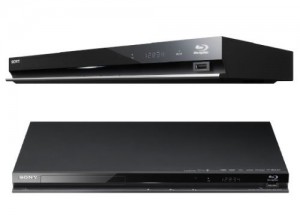 SonyBDP-S570
The BDP-S570 is everything most buyers will need from a Blu-ray player. Like the S370, it'll stream content via DLNA access LoveFilm and other online services and play Blu-rays to a very high standard. The S570 then adds built-in Wi-Fi, 1GB of built-in memory (to support BD-Iive), and, most impressively. 3D playback, OK, so if we were being really picky, we d say it lacks 7.1-channel analogue outputs or a second HDMI socket for older Av amps, but it s still amazing.
Killer Feature: One of the cheapest, and best. 3D Blu-ray players you can buy
Verdict: Sony's done it again: a great spec at a killer price. You'd need a very good reason not to buy one
Samsung BD-C6900
The first 3D-enabled Blu-ray player we tested and a great deck in many ways with a strong picture and sound Wi-Fi DLNA support, 1GB of internal storage for BD-Live, and now also LoveFilm streaming Compared to the Sony above, though, It's a bit pricey.
Sony BDP-S370
Sony's budget Blu-ray decks are among the most popular in the uk, and this one will be no different. Offering exceptional performance plus an extraordinarily flexible spec for its price – including LoveFilm streaming – it's simply a great buy.
Cambridge Audio Azur 650BD
Can one box really do it all? Cambridge Audio thinks so. The DVD-Audio and SACD-friendly 650BD is aimed squarely at audio enthusiasts, but it still delivers a great blu-ray experience OK so there's no 3D, but that won t matter to some folk.
Marantz BD7004
This is an expensive deck in the current Blu-ray market, especially when you consider the Marantz s comparatively basic spec. But both picture and sound quality have a surgical precision, the latter in both multi-channel and stereo.
Sony BDP-S5000ES
The S5000ES is assembled with such fanatical attention to detail, it's just about worth the enormous outlay required. The mega build and uber – advanced spec wring every morsel of picture and sound detail from your discs, ideal for a high-end system.
Sony PS3 Slim
If you're into gaming, you might question whether you need a separate Blu-ray player. Go for a PS3 and you won't. It can decode all HD audio formats and outputs fabulous 1080p pictures through HDMI. You саn pickup a matching AV remote separately.
Panasonic DMP-BD85
It mightn't look that special, but the 'BD85 is laden with picture and sound-enhancing I kit designed to get the very best from your Blu-rays. In the main, it works: this is a great player and a solid purchase. However, it's now looking expensive next to newer rivals.
LG BD570
This web-friendly LG is a very decent deck at the price: it includes built-in Wi-Fi, something you have to pay extra for in many rivals, and it'll handle DLNA streaming. Performance is generally good, but DVD up scaling and overall sound could be better.
Philips BOP-7500
While most Blu-ray players are little more than squat slabs of black plastic, the '7500 attempts a more interesting look, with a mirror finish fascia and touch-sensitive controls. It's a decent deck but not quite impressive enough to justify its price.