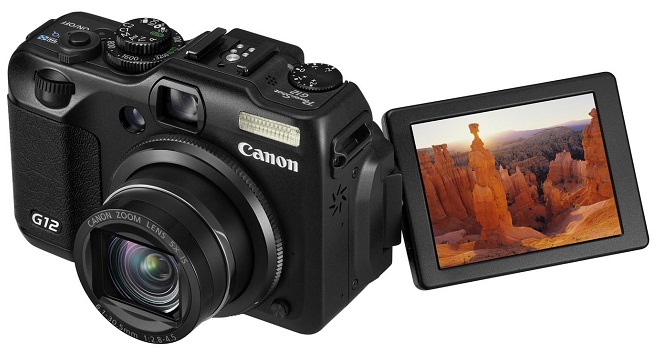 Canon PowerShot G12
Canon's flagship enthusiast compact isn't particularly compact in size, but it does pack in the features. There's instant access to a full compliment of shooting controls including fully manual, a nifty optical viewfinder that's synchronised to the zoom lens, and a flip-out LCD that allows you to shoot from awkward angles. Rather than over populate the 1/1.7in CCD, Canon has sensibly stuck with 10MP which results in less Intrusive noise at higher sensitivities. The G12 can record stills as RAW files and video as 720p HD. and image quality is crisp and realistic.
Killer Feature: All those knobs and dials – it's a compact for pros on a day off
Verdict: An impressive, feature-packed compact that gives you full control over all the variables
Sony DSC-HX5V
A brilliant all-round snapper, this Sony docs everything you'd want and does it in style. Build quality is spot-on, as are its 10MP shots. The ingenious Sweep Panorama mode is its party trick, but really this is about the whole package, 10801 video and all.
Panasonic Lumix FT2
A rugged camera that doesn't look like a toy? It's true, although you can choose from a range of shouty colour schemes. Locks on the flappy bits keep water anddust at bay, and it's not fazed by a 10m dunk or icy weather. Usability and picture quality are great.
Sony NEX-5
Sony's take on the compact, interchangeable-lens camera uses a different system to that of the Panasonic GF1 and Olympus PEN series and strips back the controls for a sleeker form. Pictures are stunning, and its sweep panoramas can be viewed in 3D.
Canon PowerShot S95
The star of this hard-wearing compact is the control ring around the lens. This lets you change settings and focus in a more direct and Intuitive way than poking around in menus. Its 10MP shots are bright and accurate and there's 720p video, too.
Fujifilm FinePix Real 3D W3
The W1 ushered in a new era of 3D photography with its twin lenses and real 3D screen. Now it's been replaced by the W3, which removes some of the bulk, expands the screen and adds 720p video recording. Currently unrivalled as a 3D compact.
Panasonic Lumix LX5
Like the Canon S95, the LX5 takes a smart, sleek approach to serious, no-nonsense snapping. Its Leica lens is fast and wide, but to fully appreciate that you'll need to be shooting in RAW. Video at 720p and a generous array of controls complete a good job.
Panasonic DMC-GF1
Half compact, half DSLR, the GF1 uses the same Micro Four Thirds system as the Olympus PEN EP-1 and its successor, the EP-2. The PEN wins on style but otherwise the GF1 sweeps the board. A highly capable and desirable cam for serious shooters.
Canon PowerShot SX210
Other compacts might have more to shout about in terms of features and tricks, but the SХ210 is simply a great all-round, everyday camera. Let's not forget the 14x zoom, but elsewhere it's the ease of use and reliable picture quality that really mark it out.
Nikon P7000
Nikon's rival to Canon's G12 shares the zoomable optical viewfinder and direct access to manual controls, but loses out a little on image quality, with more noise and less realistic colours. It's close, though, so if you want a compact on steroids, audition both.