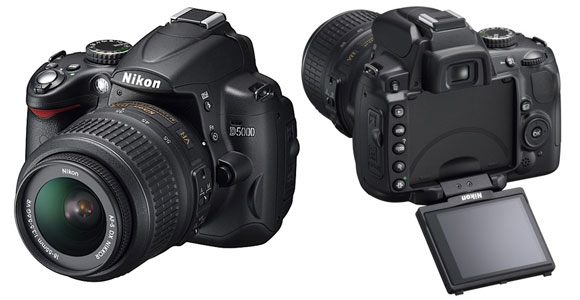 Nikon D5000
Take the winning tech of Nikon's entry-level SLRs and add 720p high-definition video recording, and what you get is the tasty D5000. The controls and menu system are friendly enough for beginners while still offering plenty of options, and the body isn't so big that it'll weigh you down on a holiday trek. The 12.3 mega pixel sensor is amazing in low light and serves up punchy colours. Worth keeping an eye on the new D3100, though, which of lets 14.2MP images and Full HD video, although only 3fps stills shooting to the D5000's 4fps.
Killer Feature: Incredible low-light shots and hi-def video on a budget
Verdict: HD video and awesome image quality in an affordable package. What's not to like?
Canon EOS 550D
The 500D's big brother hits the sweet spot between high-end features and affordability. Want to snap? It'll take supreme 18MP photos right up to ISO 6400 Video? You can have pro-Quality 1080p HD at 24 or 30fps and 720p at up to 60fps.
Panasonic Lumix DMC-G2
Sorry, purists – we know this Micro Four Thirds system camera isn't a real SLR. But it's a contender, being tiny-small without compromising usability. Its 12.1MP snaps and 720p video are great, and its swivelly 3in touchscreen provides unique control options.
Nikon D700
What do you get when you cross the flagship D3 with the outstanding D300? Yep. this full-frame beauty that sits just in reach of enthusiasts' pockets. That large 12.1MP sensor gives amazing results at all ISO settings and the build is pro level. Astonishing.
Canon EOS 1000D
Canon's entry-level SLR takes more than a little style and substance from its big bro, the 450D, Live View, awesome 10.1MP image quality and an image-stabilized kit lens make for an attractive package that's also lightweight and very simple to use.
Canon EOS 450D
A good, solid all-rounder that's packed with cutting-edge tech. Great shots, with excellent tonal range, are backed up by the impressive – nay. class-leading – 3in LCD. 3.5fps continuous shooting. Live View and superb. Intuitive control layout.
Nikon D90
The D80 rewrote the rules about what to expect from a mid-level camera, and the D90 picks up where it left off. Resolution has been bumped up to 12.3MP images are superb throughout the ISO range, plus you get Live View and 720p hi-def video.
Nikon D300s
The D300s is capable of pro result sat a fraction of the cost of most high-grade snappers. This newer's version adds hi-def video recording to make It even more awesome The D7000'sjust arrived, so you might see a healthy price drop on this onе.
Canon EOS 50D
This is what a step up from the entry-level offers: fast 6.3fps shooting, superb 15MP images, a 3in LCD, magnesium body and Live View will all boost your picture-taking options. And the arrival of the EOS 60D means there are bargains to be had.
Olympus E-450
The teensiest of SLRs, the cute E-450 manages to pack in 10 megapixels, dust reduction, lace detection and an excellent Live View mode. Improvements over the E-420 include a clearer 2.7in LCD and art filters that add creative touches to snaps.