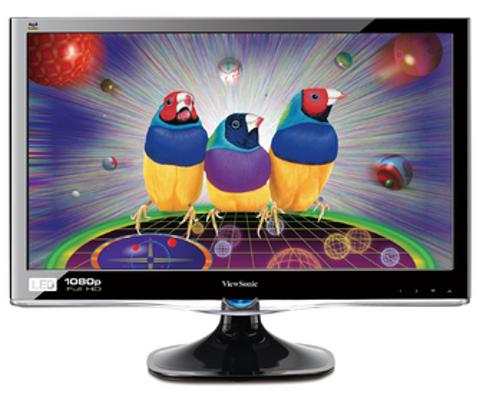 Most of its peers have adopted a less intimidating approach, boasting of exteriors with moderately rounded edges, so at first glance, the ViewSonic vx2450wm monitor does not impress much, showcasing a typical rectangular glossy body like its conventional LCD counterparts. Nonetheless, we have to give ViewSonic points for the effort by adding a transparent silver trim along the bottom of the screen to decorate an otherwise frumpy looking set. As per usual, assembly is relatively idiot proof a simple screw on operation and you're ready to go.
While the monitor cannot be swiveled, it can be tilted to a comfortable angle. On the other hand, it wobbles a great deal when we tried tilting in spite of its sizeable base. The touch controls are easy to spot, but they are not very attractive to look at as they are demarcated by a mix of numerals and the usual up and down symbols.
Nonetheless, they work well and are responsive without being overly sensitive. The user interface here is nothing out of the box it is drab but easy to use. Being an entry level 24 inch monitor, it is outfitted with the usual features like Language, Audio Adjust, color Adjust (SRGB, 6500k), and input Selection. The vx2450wm also features an Eco Mode with three descending levels of optimization: Standard, Optimize, and conserve. The screen is noticeably dimmer with each selection which does affect productivity and text readability to a large extent.
When powered on, we noticed that backlight bleeding is especially noticeable at the bottom right corner. This might adversely affect daily actions like surfing or typing, but it can be rather distracting when watching movies in the dark. While color reproduction is generally accurate (though we note a lack of vitality and intensity), the whites are slightly murky with a grey tint.
The monitor had a relatively smooth color gradient with quirks presented prominently towards the darker bands something common amongst most consumer monitors today. With a brightness level of 60, text readability is excellent even at a font size of 6.8 points on both black and white backgrounds. We tested a number of movie clips on the monitor with dynamic contrast ratio on, and that's where the quality of video playback drops drastically. Playback was partially ruined with uneven dimming which resulted in an evident loss of details in some scenes.
The ViewSonic VX2450wm is a fuss free and an average LED backlit monitor that does a fairly succinct job for everyday tasks like surfing or typing.