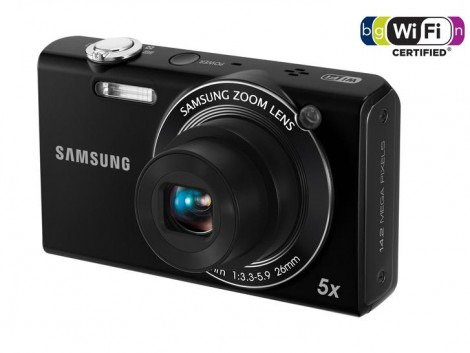 Crammed with connectivity options, Samsung's SH100 has a few smart tricks up its sleeve. So what is it that makes this snapper so web savvy?
Features:
With a 14.2MP sensor, 5x optical zoom and the ability to shoot video in 720p, the SH100's skills as a camera won't leave many of its compact competitors cowering in the darkroom. It's after you've finished snapping that it really shines.
The SH100's premier party trick requires a glamorous assistant: an Android-powered smartphone. Connect it up via Wi-Fi, download the necessary app and you can use the phone's screen as a view finder to zoom in and out and fire the shutter remotely. It'll even geotag your snaps using the phone's GPS.
With Wi-Fi onboard, your pics won't stay locked up for long. You can upload directly to Facebook, Picasa or Photobucket from Its 3in LCD touchscreen and, in the interests of security, you can automatically back up to your PC too. Wake-on-LAN support means it'll even turn your computer on for you first.
Of course, all this Wi-Fi trickery is useless without hotspots to hook up to. Each SH100 includes an account with Boingo, which has 200,000 clouds of Wi-Fi across the globe. There's also a handy mobile app to help you find them.
Thankfully, all this web connectivity doesn't mean your sharing has to happen online. A healthy dose of DLNA support means you can also wirelessly pipe your pics and HD videos directly to a compatible telly.
Verdict:
Packed with functionality, the SH100 is a camera for the Facebook generation
Tech Specs
Sensor 14.2MP CCD
Screen 3in LED touchscreen
Zoom 5x optical
Lens (35mm equivalent) 26-130mm
Video 72Dp
Connectivity Wi-Fi (b/g/n), DLNAs
Alternative…
Casio H20G
Teaming GPS with a motion sensor, Casio's 14MP H20G can geotag your pics even when you're indoors and out of sight of a satellite.