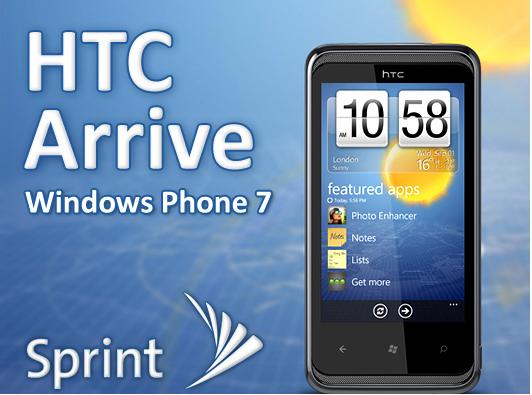 Sprint has certainly been amazing everyone with their choice of smartphones for the first half of 2011 – they're going for high end and very functional device that have a lot of potential to get new customers to the network, which is a great thing both for Sprint and its customers.
Along with the amazing dual screen phone/tablet Kyocera Echo, Sprint has announced another attractive device, this time running Windows 7 Phone, which was simply forgotten by everyone after the big launch and after Google and Apple announced their own OS updates: the HTC Arrive.
Professional looks, solid build and a great QWERTY keyboard
The new smartphone looks professional, with a body made of metal alloys and a high end finish and aluminum back plate, and once it slides open, it reveals an incredibly good QWERTY keyboard and seats the screen in a fixed tilted position that is just perfect for typing and working on the go. Of course, the keyboard makes it a bit thicker and heavier than competing phones at 15 mm and 184 grams, but when you hold the device, you can feel it's meant for business and it can take a beating, unlike other models.
On the front of the phone, there's a nicely sized 3.6 inch Super LCD display with the standard 800×480 resolution that looks just great – the color, brightness, contrast are all on a high level. Below it are the three Windows navigation touch buttons, and on the back you'll find the 5 megapixels camera with LED Flash and 720p video support.
1 GHz of processing power and 16 GB of memory
There is enough processing power for most applications with the 1 GHz Snapdragon processor and 576 MB RAM, but it's certainly nothing to boast about, especially when it's only the first generation CPU with the old Adreno graphics adapter. There are 512 MB of ROM for all your apps, and 16 GB of storage space for all the files you might want to keep on your phone – it's more than enough for documents, but if you like to store hundreds of songs in high quality or movies/video clips, you might want another phone, as there is no micro SD card slot to extend the memory.
Windows 7 Phone is not a good choice for landscape
Now, the hardware is very good and has practically no drawbacks, I'd buy this phone in a heartbeat were it running Android, but unfortunately Windows 7 Phone limits the landscape use, or at least makes it very ugly and downright unpractical. The main reason is that the Metro user interface with the tiles was made for portrait mode and it doesn't adapt to landscape as well as it should – the tiles look pretty bad in landscape and a lot of parts are hard to use. The situation will most likely change with the upcoming major update from Microsoft, but until then, users will either have to put up with it or just delay the purchase.
Still, the new HTC Arrive from Sprint is a device that is worthy of attention, and it's already available for $199 with a contract – a good price for such a smartphone, though if you don't really need its excellent hardware keyboard and professional looks, you could go for something much better performance-wise, like the Atrix or Droid Bionic.