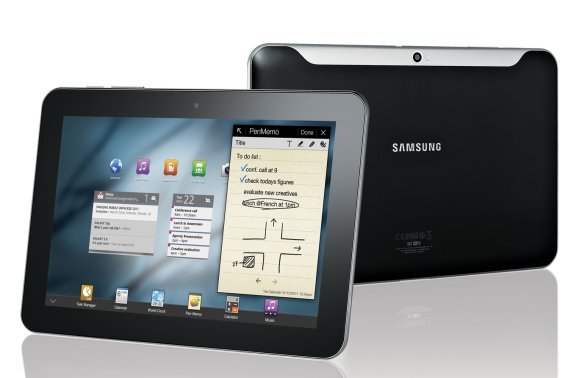 Ever since Apple proved that there is a great lucrative market in cheap tablets and slates (until then, they were considered expensive tools for professionals) with their iPad, every major electronics company and computer hardware manufacturer started showing interest in the niche.
And with the repeated success of the iPad 2, everyone's conviction just grew stronger. Samsung was one of the first companies (not counting of course, the various Chinese local factories) to actually walk the talk and release an Android tablet capable of competing with the iPad, and their first 7 inch Galaxy Tab definitely found its buyers, although the sales rate was slower and lower than everyone expected. For some reason, a lot of people blamed Android and the small screen size for that, and they might've been right.
Samsung introduces the perfectly sized tablet
But Samsung didn't give up on the idea and right after the iPad 2 was released, they announced the new and improved Galaxy Tabs. The most interesting one is the 8.9 inch, super slim model, which, as you can see, is an attempt to satisfy everyone, from those who prefer the 10 inch iPad display to those who want a smaller and lighter tablet for everyday use. The Android OS has also grown a lot, with the 3.0 Honeycomb version was specifically designed for tablets – and it shows, as the interface is better than anything else you've seen, especially the big icons on the iPad's home screen (it's more like a desktop screen, only still simple to use).
The Galaxy Tab 8.9 is one hell of a device even if you don't count it's perfect display size (and it does strike the perfect balance between screen space/size and portability). Deciding to beat the iPad 2 at its own game, Samsung made the tablet only 0.33 inches thick, which is only 0.01 inches thinner than the iPad 2, but still something to boast about. The front part is bedazzled with a nice wide screen display of an unspecified resolution (hopefully 1280×800), which is covered by an edge to edge darkened glass which makes it look very stylish, and the whole back is covered by a metal plate that feels very sturdy (much like the iPad 2, actually).
More hardware features and Android Honeycomb to rival the iPad 2
Sure enough, the Galaxy Tab NOT being an Apple device, it has a microSD card slot (in addition to 16 GB of internal memory) and a pretty good 5 megapixels camera on the back with flash and a 2 megapixels unit on the front for video calls – something that the iPad 2 users will be missing on. Otherwise, the Galaxy Tab 8.9 and iPad 2 are pretty similar: there will be both a Wifi and 3G version of it, it has a 6000 mAh battery for a full day of work, it has a nice dual core processor and 1 GB of RAM, supports HSDPA and HSUPA, has a gyroscope, accelerometer, aGPS and more.
The device will come with Android 3.0 Honeycomb preinstalled, which will provide an excellent experience for the users, but Samsung is also thinking of using their own Touch Wiz UX interface, which always makes developers and users alike cringe – why would they spend more money on the skin when the default Honeycomb interface is perfectly fine?
Either way, the Galaxy Tab 8.9 should be coming this summer, at a price lower than the iPad 2, which is excellent news and hopefully people will notice it – it definitely has the potential to become a very popular device.