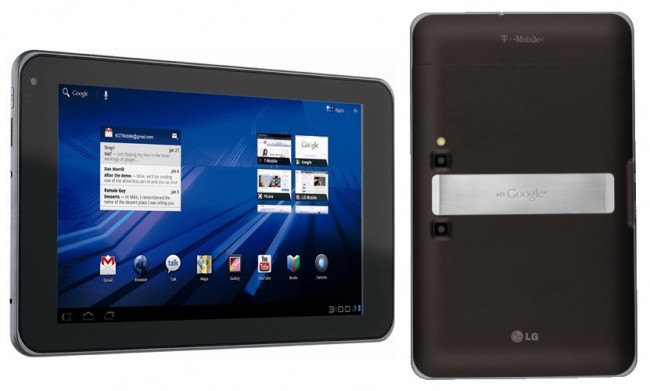 T-Mobile and LG just can't stop surprising us this year. First they release the G2X – a dual core monster that can take on any other smartphone on the market and is an excellent continuation of the "G" line of T-Mobile smartphones (with a vanilla Android OS installation and all) – and now, they partner up again to show us the G-Slate – a pretty darn good Android 3.0 tablet with NVidia's Tegra 2 platform inside, a perfectly sized 8.9 inch display and even 3D recording capabilities.
Perfectly sized display and 3D recording capabilities
The exterior of the G-Slate kind of looks like an oversized G2X, though it's got rounder edges, a thicker profile and no navigation buttons on the front – the first reminder that this device runs the all-new Android Honeycomb. On the front, besides the beautiful 8.9 inch, 1024×768 screen, you'll find (if you look closely enough) only a 2 megapixels camera for video calls.
On the back, however, there's a dual 5 megapixels camera array that is meant to shoot both 3D photos and 3D HD videos (in 720p resolution, though 2D videos can be shot in Full HD 1080p, as well). The metal plate that sits right in the middle may seem like a kickstand for resting the G-Slate on a table, but unfortunately it's just an ornament that also informs you the device comes "with the Google experience" (i.e. it has a clean Android install, without any extra skins or other buggy software).
NVidia Tegra 2, 1 GB of RAM and 32 GB of built in memory
Hardware wise, the new G-Slate is very similar to the Motorola Xoom – it features the dual core NVidia Tegra 2 processor running at 1 GHz and the GeForce mobile graphics adapter and it has 1 GB of fast DDR2 RAM to accompany it. There's also 32 GB of built in storage space for all of your files and multimedia. The similarities however end there, as the G-Slate feels completely different from the Xoom – it's more portable and usable, and it's mostly thanks to the smaller screen and overall dimensions (the G-Slate is 243x149x12 mm in size and weighs only 620 grams) – who knew one inch and 100 grams could make such a difference?
The 3D recording capabilities of the G-Slate are clearly a gimmick, though – it's like LG thought, "hey, cameras are cheap, why don't we just put two of them in this tablet and call it 3D-capable?". It shoots and films in 3D, and the stereo effect quality should actually be better than on the Optimus 3D thanks to the bigger distance between cameras, but you'll either have to buy 3D anaglyphic glasses to watch what you recorded on the tablet itself or have a good 3D TV in your house – and I doubt many will spend a few thousand dollars just to see their home made 3D videos.
Of course, the G-Slate has a HDMI out port, as well as support for most of the new technologies that should be present in any device that calls itself mobile: Wifi N, Bluetooth 3.0, DLNA, GPS, a gyroscope, 3.5 mm audio out jack, and much more.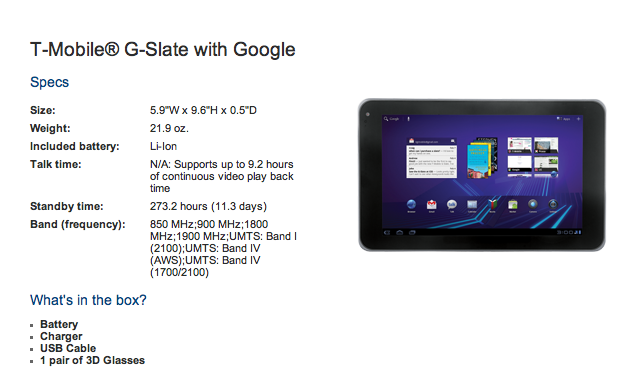 A big battery for a full day of work and Android 3.0 Honeycomb
The G-Slate will be able to work continuously for a full day, thanks to the smaller screen and the surprisingly high capacity 6400 mAh battery (or batteries, if LG used the same trick as Apple on the iPad).
The Android OS never looked so good, and thanks to this tablet being a "Google experience" device, users can enjoy it without any additional software, which would most likely weigh it down and make it slower. The apps market is kind of lacking apps for Android 3.0 right now, but that will undoubtedly change in the following months, as more and more developers get around to updating their apps for the new version and more people buy Android tablets running Honeycomb.
There is no word on pricing, but it shouldn't be higher than $200-300 with a contract, judging by the cost of the iPad and the Xoom. Overall, this is probably the best Android tablet yet, at least until Samsung finally releases their super slim Galaxy Tabs.