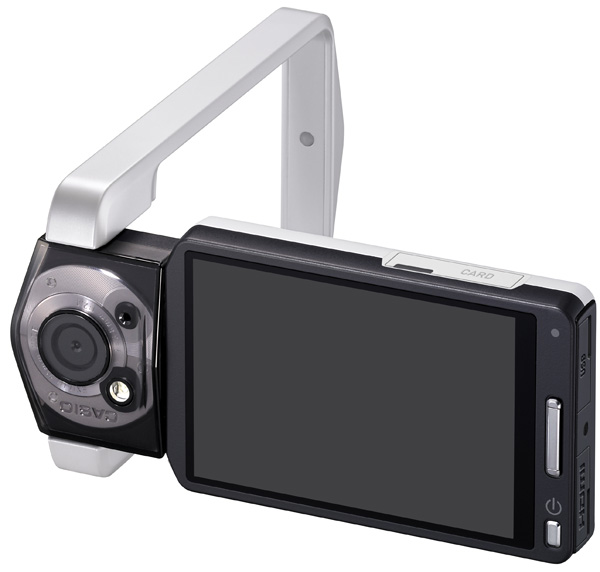 Consumer digital cameras have been steadily evolving ever since they first appeared, but it's already been more than a decade and still there has been no product that would really revolutionize the market. Sure, there have been attempts at creating something better, but lately the improvements have been limited to more megapixels, higher video formats, touch screens and GPS – the latter two are especially annoying and useless. One of the latest popular craze was the Flip camera – an affordable HD recorder popularized by video bloggers on Youtube, but it also kind of faded away when better HD cameras became available.
Casio has been in the game for a long time – they were among the first to introduce prosumer and slim models, with both trends surviving and thriving to this day. Lately, they've been heavily marketing the TRYX – an interesting concept, which looks and acts like an improved Flip camera, and is supposed to bring a small revolution to the consumer market and people who want a universal, ultra-portable camera for all their needs.
So, what's it all about?
The TRYX camera tries to combine the best of all three worlds of camera design – portability, ease of use and handling ability – into one hybrid, and it seems to be working fine. While the Panasonic Lumix GH1 and GH2 are the perfect combination of a professional dSLR AND professional video camera, the TRYX is an almost perfect combination of a handheld consumer camcorder and compact point-and-shoot still camera ("almost" because the quality of the picture really could've been better).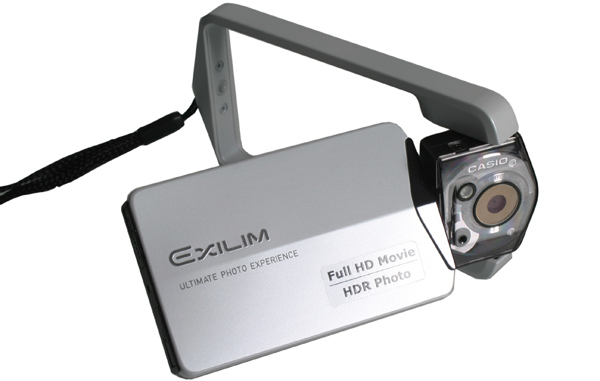 The 12 megapixels sensor is pretty good at taking photos, but it's definitely worse than just about any other point and shoot with a bigger lens – that's kind of bad, Casio could've used a bigger lens or sensor, but they sacrificed it for portability. There is no optical zoom, either, so you're also limited in the way you take pictures. 1080p HD recording is actually great for such a camera – it's much better than the Flip, for sure. This camera could easily be used for filming events and trips, for example.
The swiveling hinges get all the attention
The swiveling design is what allows it to be used comfortably both as a still and video camera. There are three "pieces" that rotate around to give you the best handling for your current needs – you can hold it as your usual point and shoot camera, flip out the metal frame and hold it like a camcorder (excellent stability and your hand doesn't get tired) or even put it on a desk or attach it to your laptop's screen (the hinge is strong enough) and use it as a web cam – now that's versatile!
However, while the design is simply great, there are quite a few problems with the TRYX, as well, which may actually make it undesirable for the usual consumer and more of a novelty for those who like collecting exotic devices. The most important issues with the TRYX are the battery life and the lack of an USB port.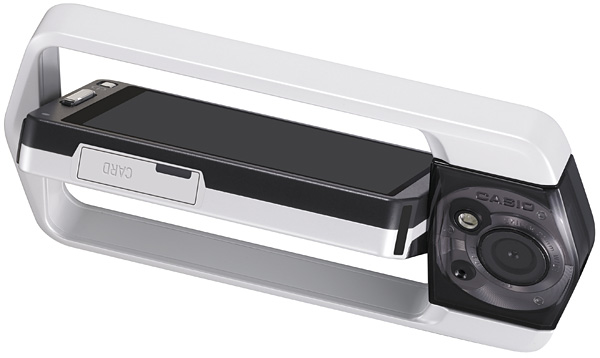 A couple of problems that ruin everything
First, the battery is non-removable and it's probably a small one, considering the overall size of the camera, giving users no more than 50 shots or about half an hour of filming on a full charge. I don't think anyone wants an ultra-portable camera that just shuts down when you're as far away from an outlet as possible! That actually would be tolerable had there been a USB port for charging – but no, Casio uses their own proprietary cable and that just forces you to use their own charger.
So, while you get a great and novel camera, you're not going to be able to use it much anywhere – even in the city you'll have to carry the charger with you if you want to take more than a few dozen photos!
The Casio TRYX sure is unique and if the above problems are fixed, it could actually make a great multi-purpose digital camera for consumers and professionals alike, but until then, it's reserved for enthusiasts only.