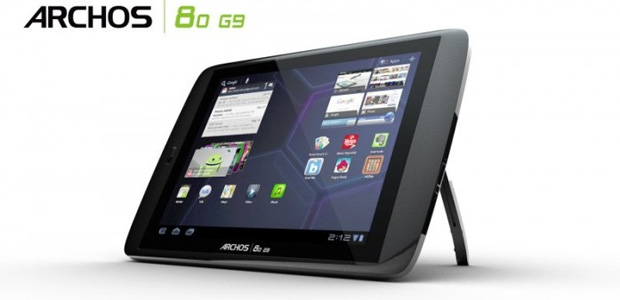 Archos was one of the first companies to start producing Android tablets, even before the iPad made the market so huge. Back then, they focused more on multimedia features, marketing the tablets as portable media players – and interestingly enough, that was a time when Android had pretty much no support for multimedia, so Archos had to create their own codecs and drivers for video and audio playback.
Nowadays, Archos is still on the tablets market, but strangely, they're nowhere near as big as they seemingly should – they have more experience than other companies, yet their marketing efforts are pretty much nil compared to Samsung, HTC and other companies that are now most popular for their Android slates.
One of the latest Archos tablets is set to change that, however: meet the Archos 80 G9, a compact slate that has more processing power and storage space than you'll ever need on a tablet, but which could prove very useful on a portable multimedia device.
The Archos 80 G9 is more niche-oriented: while other tablets are general purpose mobile computers, Archos is targeting the market they know best –portable multimedia players. But in this case, the player part is only the beginning, as the Android powered Archos 80 G9 has enough power to run any kind of tasks.
On the outside, the new tablet doesn't look very impressive – it's got a standard slate form factor, with no unique features except two prolonged screen borders that make it easy to hold with one or two hands (the other two borders are thinner), which has almost become an Archos trademark over time.
There are no buttons on the front, nor does the Android Honeycomb OS need any.
The display on the Archos 80 G9 is 8 inches across (in fact, its name stands for just that – 8.0 inches) and has a resolution of 1024×768 in 4:3 format – the same as on both iPads, while being slightly smaller and easier to hold.
The performance is provided by a dual core Texas Instruments OMAP 4 platform running at a whopping 1.5 GHz, making it the fastest tablet in the world – TI's new OMAP 4 is not only very energy-efficient, consuming less than the new dual core Snapdragon, but it's also known to be faster than similarly clocked chips from Qualcomm and Samsung, and here it's running at 1.5 GHz! Obviously, this monster is paired with 1 GB of RAM, which is the minimum necessary to get its full potential.
Aside from Wifi N, Bluetooth, GPS, gyroscope and other standard features, the Archos 80 G9 has a HDMI out port with support for 1080p output (which the fast tablet can easily provide) and a full sized USB port for any peripherals you may want to connect. It's mainly intended for Archos' own 3G data stick, but you can connect anything that works on Linux with generic drivers – external hard drives, keyboards, mice, flash drives and other peripherals (even some printers!).
One of the other defining features of the new G9 is the amount of storage space – this thing has 250 full GB! It achieves that by using Seagate's single-platter ultra slim 7mm mechanical drive instead of the usual Flash memory. This gives you plenty of space for any movies, images, music, documents and other files (you can also upgrade it to 320 GB in the future, though you'll have to take the whole device apart), and also provides extreme reading/writing speeds for a tablet – this drive should be at least 2-3 times faster than any onboard Flash storage!
For those who want more battery life (obviously, the drive takes its toll – it should reduce the total battery life by 20-30 minutes) or don't like the idea of a mechanical hard drive spinning inside (though its super quiet and can last through any rough handling) can get the basic model that has 16 GB of Flash storage and will cost about $100 less.
The Archos 80 G9 will be available this September, and will cost anywhere between $250 and $400 – I'm betting on the former, as this tablet has a bigger brother that will take the more expensive price. If you've been waiting for the best tablet for entertainment and work on the go, this could be it!