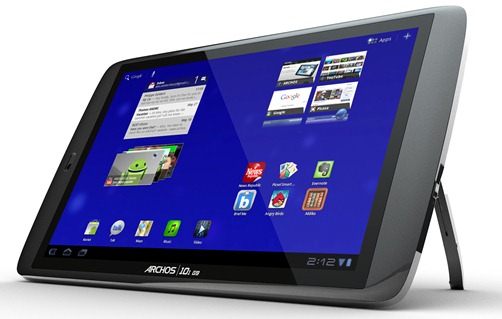 Overview
The Archos 101 G9 tablet has been released on the market on June 22, 2011 alongside its cousin, the Archos 80 G9 model. Since its release, this tablet model has received a great deal of positive reviews, as the features and technology fused together in this device are considered both innovative and groundbreaking. The more expensive version of the Archos 101 G9 uses a 250 Gigabytes hard disk as storage, while the cheaper one has an incorporated 16 Gigabytes flash memory card. However, both models come with a potent dual-core processor designed by ARM, boasting to surpass the capabilities of similar processors on the market by a fair margin. If you combine that with the 10.1 inches display and the HDMI support, you got yourself quite a powerful device on your hands, wouldn't you say so?
Specifications: A quick look at its main features
• The hard-drive version weights 755g and the flash drive version weights 649g;
• The 10.1 inches display enables resolutions up to 1280×800;
• The MicroSD Card slot enables upgrading the flash memory up to 32 Gigabytes;
• Video camera allows recording movies up to a 720p resolution;
• Incorporated microphone and kickstand;
• Powerful Li-Polymer accumulator that provides up to 10 hours of net surfing and 36 hours of music playback, as well as 7 hours of video playback;
• HDMI support, though it does not come with its own HDMI cable;
• Potent dual core ARM OMAP 4 processor with a 1.5 Gigahertz frequency;
• Several Codec packages that enable playback of the most common file formats.
What we like
One of the main advantages of the Archos 101 G9 tablet is its competitive price compared to the iPad 2, as well as the thin and light design. However, one should not be fooled by its size, as underneath the hood lies the best technology, ensuring that this tablet provides a great deal of raw processing power. Moreover, the operating system is set to download any update in the firmware as soon as you enable a wireless connection, meaning that you will always have the latest drivers and patches installed. In addition, the Archos 101 G9 provides an excellent HDMI output, one of the must-have features in today's market.
What we don't like
One of the biggest cons of the Archos 101 G9 is the lack of in-built 3G support, but one can purchase it separately for approximately 49 dollars. While many do not consider this entirely fair, keep in mind that the price of the tablet is quite low compared to its competition. Therefore, the lack of incorporated support should be regarded as a means of not paying for features one may not really need.
In addition, it would seem that the video playback is not as great as one would expect from such a powerful processor. Higher resolution often cause a bit of stuttering, which can probably be related to the flash RAM memory.
Reputation
If there is one thing that can be said about the Archos 101 G9 tablet's reputation, it is that it actually delivers exactly what it promises. The designers have never intended on creating a tablet that rivals with the high end and expensive versions on the market nowadays, but rather an accessible yet still fairly powerful device with a great deal of practical applications.
In a nutshell
The Archos 101 G9 tablet is, to put it simply, a very cost effective device. If you are looking for a tablet that can meet your needs and not deal a deathblow to your budget, then this model is definitely one to be taken into account. Moreover, the designers of the Archos 101 G9 do not make unrealistic promises regarding its capabilities, so you know exactly what you are bargaining for.