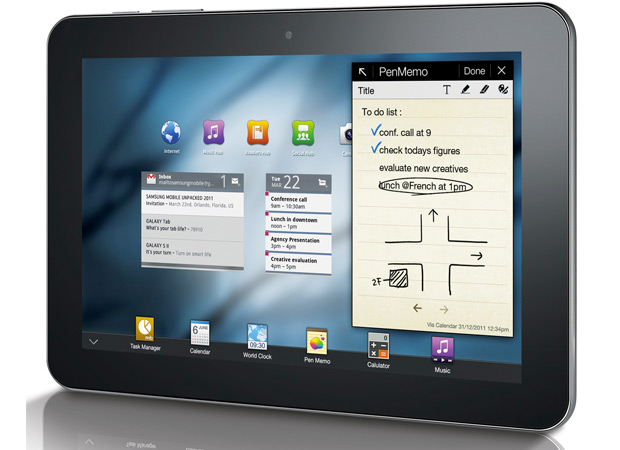 Tablets have certainly entered our life and established themselves as a useful tool for everyday work. Most people use them for entertainment, viewing documents and Web pages in a more comfortable manner, but with the two main operating systems on the iPad and the dozens of other tablets, iOS and Android, maturing enough, they became a great tool in the hands of a business user, as well. You can do a lot of work related things on a tablet, and it's much more versatile than a laptop or even netbook in some cases.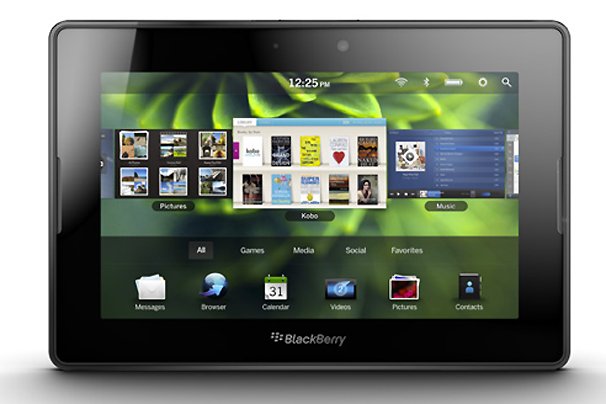 RIM and their Blackberry line has seen a sharp decrease in sales, prompting the company to start developing new products and getting into new markets, one of which happened to be the tablet market. Their entry, the Blackberry Playbook, has a lot of potential and is a great device, although the operating system is very new and lacks a lot of things.
Samsung, on the other hand, has been in the game for quite a while now, and just recently they have announced a new Android tablet, the Galaxy Tab 8.9, which runs the latest Android Honeycomb and looks like the perfect machine for work and play. So how do these two compare?
Similar performance, different screen size
Both tablets are pretty much equal in performance, which is amazing when you consider that most of RIM's phones were underpowered and running on old hardware, just like Nokia's Symbian devices. The Playbook has a dual core TI OMAP processor running at 1 GHz, and featuring a factory overclocked PowerVR SGX540 graphics adapter, which is more than enough to take on anything else out there, including Samsung's own 1 GHz dual core Orion platform that powers the Galaxy Tab 8.9.
Obviously, one big difference is the screen size, and the 7 inch display with a 1024×600 resolution makes the Blackberry tablet more portable, but also slightly harder to use. The picture quality, however, is very high and can easily compare to the Galaxy Tab's 8.9 inch TFT display, even with its higher resolution of 1280×800 pixels. That's pretty remarkable, and it shows that RIM is on the right track in this market.
Great hardware specs list for both tablets
Other hardware specs are pretty much the same on both devices: Wifi N, Bluetooth, HDMI out port, compass, accelerometer and stereo speakers are all present and accounted for. What's surprising is the lack of a GSM radio option and even GPS in the Blackberry, but that's probably because RIM is marketing it as strictly a business device. Both tablets have a 5 megapixels camera on the back for taking photos and filming 720p videos, and a smaller camera on the front for video calls or lower-quality shots of yourself. The storage space differs by price, with the Galaxy Tab 8.9 having 64 GB, while the similarly priced Playbook only 32 GB (there's a 64 GB model, too, at a higher price).
Business users won't be disappointed with either device
But how do these devices fare for business users? Well, the Blackberry OS is clearly better for corporate users, and especially people who are already using a Blackberry phone and server – they can easily integrate the tablet into the work flow without a hitch. The tablet's OS also has integrated encryption, security and anti-theft features, which are a priority for many enterprises. The apps market is there, too, but it's a bit empty right now, although you'll find a lot of good apps mostly in the productivity and business categories (games and entertainment are seriously lacking though).
The Galaxy Tab's Android Honeycomb looks better, but lacks all the mentioned features, however they can be set up if you've got the time, so Honeycomb is definitely capable of being a reliable enterprise-grade OS (it's based on Linux, after all). Where Android shines, though, is the apps market – there are a lot of great apps in most categories, and some amazing games and utilities that you can use outside of your work, which is great if you prefer having one universal device in your office and home.
The Blackberry Playbook and Galaxy Tab 8.9 are both excellent devices, but the former is a better choice for those who are already using RIM's BES or BIS services. However, if you're a small business owner and are just starting out, The Galaxy Tab 8.9 will make a great addition in your and your employees' life.