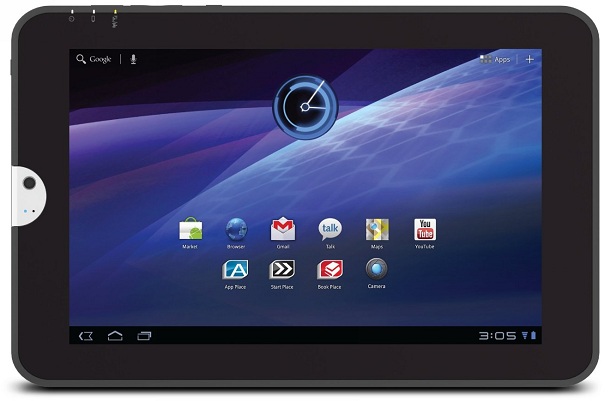 Toshiba's upcoming 10 inch tablet has been on the rumor mill for quite some time now, and finally, they have released it. It was an interesting release – no fanfare, no major PR actions whatsoever before shipping it to stores, people woke up one day, went to their local Best Buy, and there it was on display. Everyone was surprised by this – how does Toshiba expect to sell it?
But the Thrive – yes, that's the name of the tablet – has a lot going for it. It is very user oriented and allows people to start using it without changing their habits and other gadgets – it is almost impossible to look at the Thrive and wonder why it's not called the Toshiba Handibook, which does everything the iPad does at half the price. Toshiba really might've missed an opportunity here, and yes, that was a South Park joke :-).
A well-built tablet with a practical design and removable back cover



The Toshiba Thrive might not look impressive on the outside, but it's actually well-built and has a thought out design. It's made mostly out of plastics, but it's very sturdy, and the whole back cover is easily removable to give you access to the battery (if you can carry a spare one with you) and let you replace the back cover itself with another one of a different color – a nice customization touch. Toshiba also placed the camera on the portrait top of the device, which makes it a bit hard to take landscape photos, and they have surrounded it with a chrome finish typically seen on their laptops. The camera itself is a 5 megapixels unit that has LED flash and can film 720p videos – nothing special, but certainly better than the one on the iPad 2. Also, there's a 2 megapixels camera on the front for video calls.
LED backlit screen, Tegra 2 platform and a ton of cheap expansion options
The screen is a pretty standard LED backlit unit with a 1280×800 resolution, and it does a great job at displaying anything you need in most conditions, except direct sunlight, but then again, few tablet displays work well outside, including the iPad and iPad 2. There's also nothing to complain about in the performance department, with the Thrive being powered by the now standard NVidia Tegra 2 platform, with two processor cores running at 1 GHz and NVidia's own GeForce graphics adapter, which can easily run any tasks you might think of, helped by a full Gigabyte of RAM.
Where the Thrive really shines though is the expansion options. Not only does it have a full SD card slot that lets you add up to 64 GB more memory (there are 32 GB on board) and view any photos and movies straight from your digital camera, but it also features full-fledged HDMI out and USB 2.0 ports, which means that you can output Full HD videos straight to your TV without the need for an expensive special cable and more importantly, you can add various USB peripherals, including a Flash drive, 3G modem, full-sized keyboard and whatever else you may need – all of which are very cheap compared to the specialized models for tablets and smartphones. This makes the Thrive a very handy tablet, and it's a perfect choice if you're a practical person and don't really care about 3 extra millimeters of thickness or the simplistic design.
Of course, the tablet ships with Android 3.1, which makes everything work, and thankfully there are already a few thousand apps that are compatible with the new interface, so you don't have to hold off buying a Honeycomb tablet because developers are slow to get onboard – chances are all the apps you need are already ported.
There are three models, and the prices start at $429 – certainly not half that of the iPad 2, but for what the basic model offers, it's definitely a good price. If you need a tablet for work and want to have a lot of accessories without spending a fortune, the Thrive is an excellent device to buy.