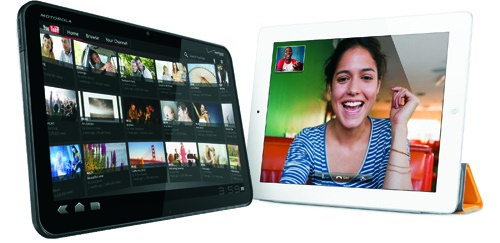 The tablet market sure is getting crowded, and it will be even more so when the new contenders arrive from Sony, Lenovo, HTC and many other companies. The Apple iPad has sparked a revolution, and the iPad 2 certainly continues the tradition – the number of sales is direct proof of that – the iPad 2 sold more units in the first week and overall than the first iPad!
But with all the new Android tablet coming in, which are often more powerful and cheaper than the iPad 2, and Honeycomb OS looking and working so great, should you choose to go with Apple or get one of the many Android tablets on the market?
That may be a bit difficult to answer, as both the iPad 2 and Android tablets certainly have their strengths and weaknesses. The iPad 2 is an amazing tablet if you want something simple and easy to use that also looks and feels great. iOS is an established operating system, and there are literally hundreds of thousands of apps on the iTunes marketplace that can do almost anything you need. Of course, the iPad 2 works great with any Mac computer, and PCs have much worse compatibility, so that's another point to consider.
However, if you are a power user and want a tablet that can be easily personalized and customized to your needs, the iPad 2 is definitely on the last place when choosing. Most Android tablets will provide much better customization features, thanks to the openness of the operating system and the tablets themselves – as they want to stay competitive, manufacturers open up their devices to modders and developers that want to experiment with new software and solutions, making life better for the end users and creating innovations that would be impossible on closed systems like the iPhone and iPad.
Most Android tablets are also more powerful than the iPad 2, and while in the past, there were no apps or games to take advantage of all the power, there are now over 200,000 apps on the Android marketplace, including beautiful 3D games (a lot of them ported from iOS, as well) that you can install, and a lot of the times they're actually cheaper than their counterparts on iTunes.
The Android operating system is now mature, without bugs, and Honeycomb looks simply fantastic on tablets – once you play with it, you won't want anything else. In the coming months, a lot of the apps will be made compatible with the new interface, so you won't have problems running your favorite apps on a Honeycomb tablet, either (as a matter of fact, most of the top apps are already compatible).
The last issue to consider is pricing, and this is important for a lot of people – Android tablets are a dime and a dozen, so they have to be priced lower to stay competitive, which they are – you can find great models for under $400, with dual core processors, 3G modem, high quality cameras (not a paltry 2 megapixels like on the iPad 2) and more. With a 3G contract, you can get an Android tablet for under $200 – if that's not a bargain, I don't know what is.
In short, the iPad 2 is a great device for those who want something simple or people who are technically challenged. If there's even a remote possibility you'll want to customize your OS to your liking, an Android tablet is a much better choice.