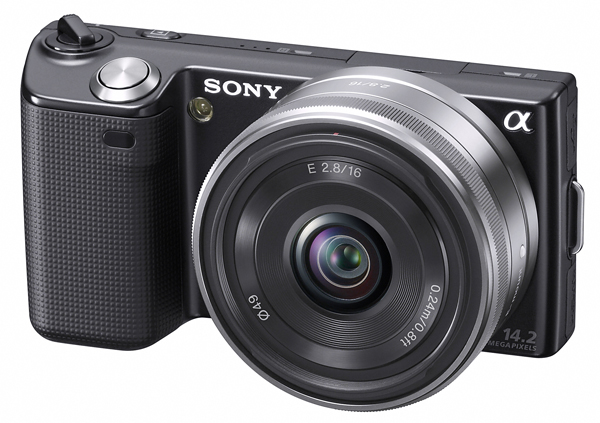 Panasonic and Olympus' mirror less Micro Four Thirds standard has been mostly supported by these two companies alone up until now, and they have certainly proved that there are advantages to using it over the older Four Thirds standard, which is pretty much ubiquitous in professional digital SLR cameras.
One of the latest applications where Micro Four Thirds has proved useful is in super small professional cameras, both for photography and video shooting.
Olympus and Panasonic have both introduced their own models, the E-P1 and GF1, both of which were pretty successful and have spanned a series of cameras, with the newer models being comparable with low and mid end DSLRs. These cameras are excellent for novice photographers who want to have access to all the features a DSLR offers while still having an easy experience in the beginning, but they'll also work for seasoned professionals who want a good day to day camera to replace a point-and-shoot (which the new MFT super-compacts sure can accomplish).
Meanwhile, Sony has also noticed the format and its success, and has announced their own cameras for the line, the NEX-5 and NEX-3, which were released a while ago and are a great competitor to Olympus and Panasonic's established models. The cameras are pretty much identical, with the only major differences being the support for 1080i video recording, an infrared remote sensor and a smaller magnesium housing, all of which are present on the NEX-5 and absent from the NEX-3, which makes the former a more interesting choice.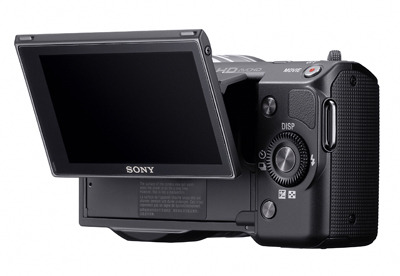 The NEX-5 is really small, and when you consider all the features you're getting, it seems unbelievably small. It's as big as a simple point and shoot, with the only thing giving away its hidden power being the big lens – even the standard 18-55mm F3.5-5.6 lens is bigger than the camera body! If you want to use it as a replacement for your point-and-shoot, you can opt for the small 16mm F2.8 pancake lens, which makes the whole thing very small and light, considering you retain all the manual settings of a DSLR. The magnesium alloy housing sure makes it feel sturdy and pretty heavy at the same time, so you feel like you have something of a premium quality in your hands.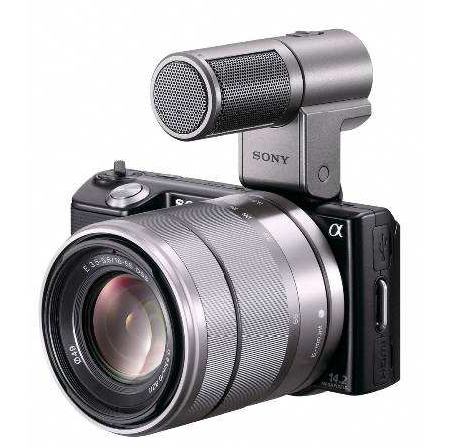 To facilitate the extremely small design, Sony has had to make a few sacrifices, with the most important one being the battery life and lack of a flash on the camera. The rechargeable battery can be used for about 300 shots (less with the add-on flash) and 1 hour of HD video shooting, which is on the low side.
The good news here is that it's replaceable, so you can keep a couple of these with you and optionally a charger nearby. The lack of flash isn't that bad, thanks to the new E mount, which replaces the usual hot shoe.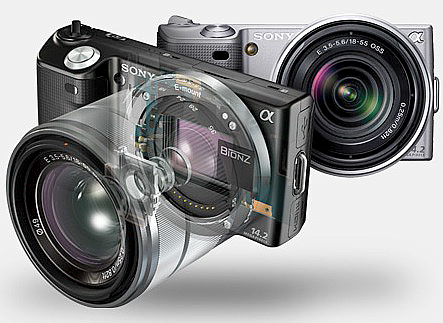 The camera comes with a flash in the package, which attaches itself to the E mount and works even better than a normal small flash. You also have the option to add a full hot shoe instead that can be used with any accessories, or an EVF if you prefer it over the standard display. You have to remember that you can't have any accessories attached when using the flashgun, which could create a few problems for some photographers. Thanks to the various adapters, you can attach pretty much any lens or accessory made for any cameras, which makes the NEX-5 a very versatile small camera.
The number of buttons to control the camera is pretty limited, making it an excellent choice for beginners – although all the detailed settings are available for configuration using the beautiful 3 inch display, which features an adjustable angle (up to 80 degrees up and 45 degrees down, giving you a much wider choice when taking photos) and 920,000 pixels with XtraFine TruBlack technology for excellent colors, brightness and contrast.
The sensor on the camera is a 14.2 megapixels unit that can shoot 14 megapixels photos in 3:2 format or 12 effective megapixels in 16:9 widescreen format. You can also film 1920×1080 (60 FPS interlaced) Full HD videos using Panasonic's AVCHD compression or 1440x1080p at 30 frames using the MP4 format. Of course, there's also the choice of 720p or VGA video, all at the same 30 frames per second.
All in all, Sony's NEX-5 ultra-compact Micro Four Thirds camera is certainly impressive, although at the $650 starting price, it is definitely very expensive – you can add $100 more and get a great DSLR with flash and an additional lens! Sony has always been known for expensive products, though, so it shouldn't come as a surprise. The NEX-5 may be worth it for those who want a small all-in-one camera that can be used as a point and shoot, for filming high quality videos and doing (semi-)professional photo shoots – it can easily do all of that.