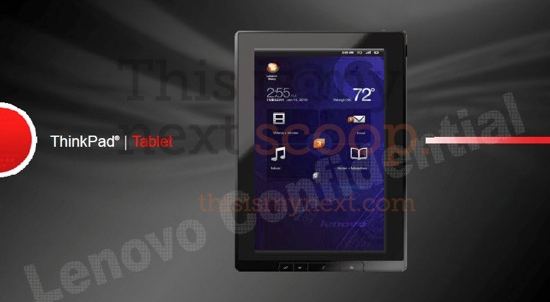 The ThinkPad line of laptops is well known to serious users, thanks to their proven reliability, power and stability under any operating conditions. Any big business and professionals that don't have time to mess around and just want a laptop that works and lasts a lifetime will choose a ThinkPad. This is IBM's legacy, but the new owners, Lenovo, are doing a pretty good job at maintaining it.
With the recent release of the new ThinkPad laptop models, Lenovo also leaked (whether intentionally or not doesn't really matter) the specs of a new Android tablet, dubbed the ThinkPad Tablet, filled to the brink with features and oriented at business and power users.
There aren't any real pictures or even mockups of the exterior of the new tablet, though being a ThinkPad, I'd expect it to be rather ugly, but practical. If its anything like the W5XX line of laptops, it should have a soft plastic finish that would make it great to hold in your hands.
The technical specs are really good, though: the ThinkPad Tablet is supposed to have a 10.1 IPS LCD inches capacitive touch screen with a resolution of 1280×800 pixels. The performance will be provided by NVidia's Tegra 2 platform, which means that this tablet will be fast enough for anything from editing your documents, viewing Flash videos right in the browser and watching 1080p video clips without any lags.
There will also be up to 64 GB of integrated storage space (though I'd prefer Archos G9 solution over this – more space and better performance – great for power users), two cameras (which is normal for a tablet, but weird for a ThinkPad), a full sized USB port and HDMI output, an SD card reader (not micro SD!) and a big batter that is supposed to last up to 8 hours of continuous use. Of course, there'll be your usual Wifi, Bluetooth, various sensors and optional 3G modem for those who work on the move.
Moreover, there will be an option for a Wacom digitizer with full pen support for those who need it and a special keyboard dock, kind of like the Asus Transformer or the popular iPad keyboard cases that you can find from quite a few companies online.
Obviously, a business tablet should come with the appropriate software and security features, and the ThinkPad tablet will not fail to deliver: it will come with a lot of apps for professional and corporate tasks and will have full device encryption, anti-theft and remote wipe options and strong IT integration.
These are still just preliminary specs leaked from a Lenovo confidential file, but they certainly look promising and exactly what you would expect from a powerful business device. The pricing will start at $499, in line with the iPad and a great price for those who want a reliable and functional tablet for all their needs.