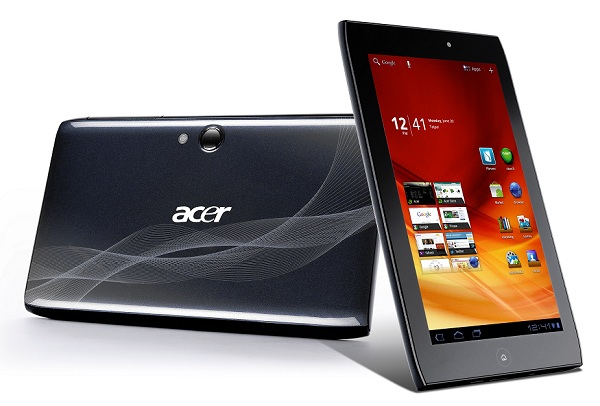 It's been quite a while since Acer officially announced that they're getting into the mobile game, with prototypes of their smartphones and tablets being demonstrated over six months ago. And we're finally seeing them deliver on their promises, with the Liquid smartphones already on the market, the Acer Iconia Tab A500 being released worldwide, and now the Acer Iconia Tab A100 is also here.
A smaller version of the Iconia Tab A500
The A100 was actually one of the first tablets to be demonstrated by Acer, and is basically a smaller 7 inch version of the A500, with pretty much the same hardware specs – it's just for those who want a more portable tablet and don't want to lug around a relatively big 10 inch device.
The new tablet looks almost like the A500, except that it lacks the notable aluminum finish on the back, with Acer opting for a simple plastic cover instead – it still looks good, but definitely not as exclusive, although the pattern finish a la HP Pavilion series laptops makes it stand out from the crowd, if only just a bit. The size is obviously smaller, with the A100's housing dimensions being only 195x117x13.1 mm – enough to fit any small bag and still sit comfortably in your hand(s).
The same internal hardware brings superior performance
On the inside, it features the Tegra 2 System-on-Chip from NVidia, the exact same one used in the A500, running at 1 GHz. This platform has pretty much set the precedent for performance on both the new generation of tablets and smartphones, so there's no doubt it can shred through anything you can throw at it, especially since it's aided by 512 MB of RAM. The integrated GeForce mobile graphics adapter ensure that you will be able to run the latest 3D games and apps for a long time, as well as watch and record 1080p videos without a hitch.
Other specs are pretty much run-off-the-mill: the Iconia Tab A100 has a 7 inch, 1024×600 pixels display that looks pretty good, support for HSPA networks (7.2 Mbps/5.76 Mbps download and upload, no HSPA+ support, though), Wifi N and Bluetooth 2.1 EDR, various sensors including a gyroscope, accelerometer and magnetometer, and more.
HD video recording, HDMI out port and Android Honeycomb fulfill all your needs
For all of your recording needs, you get a 5 megapixels camera on the back that supports 720p video recording, of course, and a 2 megapixels unit on the front for video calls and the occasional vanity shots for Facebook and Twitter. There's a dedicated HDMI out port, which is a nice addition, and you can output a mirrored image of what's on your tablet's screen – useful for surfing the Web, playing games and watching movies without having to use special apps.
Obviously, the tablet runs Android Honeycomb, the latest version, and thankfully the interface wasn't changed much by Acer, with the only additions being a few new widgets and custom apps, which are actually pretty good.
The Acer Iconia Tab A100 is a great choice for a cheap tablet that looks great and can do all the work you need it to do. Ii is already available online and on a couple of major networks throughout the world, so you should take a look if you're in the market for a new tablet.