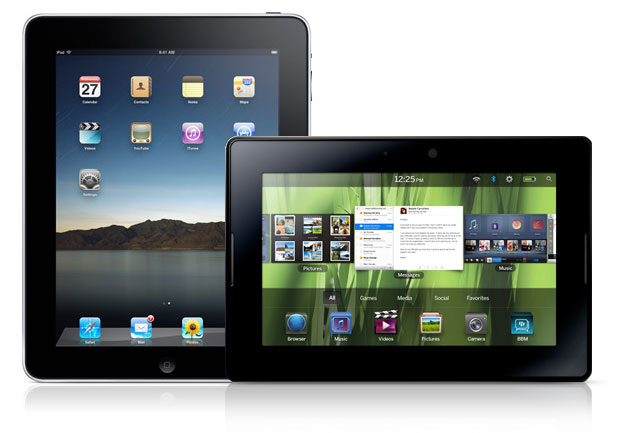 RIM's revolutionary new device, the Blackberry Playbook tablet, has been on the market for quite a while now, having been released in May in North America, but unfortunately it does not seem to enjoy a lot of sales as everyone initially expected, despite the good reviews from most publications (the whole situation does remind a lot of the Motorola Xoom).
The main reason for that is that while the Playbook is a great device both hardware and software wise, RIM's marketing campaign is pretty weak, especially when there's so much competition around, as well. The biggest competitor to the new Blackberry tablet is of course, the iPad 2, which was released later in the month, but has already sold more units than the first iPad and continues to beat all of the Android tablets combined in the total number of sales worldwide.
But how does RIM's first ever tablet compare to the iPad 2? That's the important question on the mind of many business owners who have decided that a tablet would be a good addition to their corporate hardware list.
Technically, the biggest difference between the Blackberry Playbook and the iPad 2 is the size of the display: while the first has a relatively small 7 inch wide screen with a nice 1024×600 resolution that makes it portable but a bit uncomfortable to use in some apps, the latter has a 9.7 inch 4:3 format unit with the good old 1024×768 resolution. Both are made using IPS technology and can display 16 million colors at a wide angle range, so they're pretty much equal there. The choice is pretty hard, actually, as the iPad 2 is small enough for most field work and it makes no sense to get a smaller screen if that's the case.
Both devices have a dual core ARM Cortex A9 processor (from different manufacturers, of course) running at 1 GHz, 1 GB of RAM and 16, 32 or 64 GB of onboard storage with no way to expand it. If you're one of those people who like to use a tablet's camera features for taking photos and videos, then you'll like the Playbook's 5 megapixels unit more than the iPad 2's 3 megapixels snapper, although both devices can shoot HD video with no problems. Of course, if you need a 3G modem onboard, the iPad 2 is the only way to go, as the Blackberry does not have that option at all – I suppose RIM thinks a business device doesn't need one, but that's definitely not true for a lot of companies out there.
The other major difference between the two tablets is of course the software. While the iPad 2 has an established OS that has all the features you can think of and more thanks to the hundreds of thousands of apps on the market and a long history of improvements and updates from Apple, the Blackberry Playbook uses a pretty much unknown custom OS, dubbed Blackberry OS, which also has support for third party apps, but it's unlikely that their store will ever get as big as iTunes. That's OK, though, as the selection of apps is currently pretty good, but it definitely lacks in categories – you'll only find your typical business and productivity apps, with anything from entertainment to other more specialized tools missing completely. That doesn't bode well for those who want an universal device that can anything if required, so the iPad 2 wins here.
At about the same price, the Blackberry Playbook looks like it'll make a bad choice over the iPad 2, but if you need a reliable tablet with no frills that is meant to do one thing, and do it well, it may be a better choice, although the iPad 2 is certainly better equipped to handle the ever-changing needs of startups and new companies – the choice is up to you!