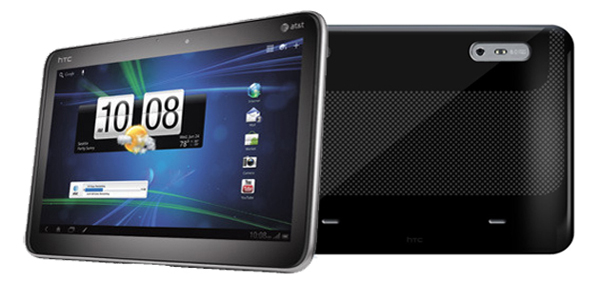 HTC has been pretty busy this year, having churned out over a dozen different products, mostly variations of a base design, but still, it has provided a lot of consumers with enough hardware to easily last the whole next year. They haven't had much time for tablets, apparently, since they only have two: the 7 inch Flyer and the new 10 inch Puccini, which has now officially arrived to AT&T, renamed as the Jetstream and featuring support for their all new 4G LTE network (you know, the one with 42 Mbps+ promised download speeds).
While the technical specs are nothing out of the ordinary, they are still good enough to put it on your radar, however I'll say right off the bat that the pricing is just terrible: $700 with a two year contract (!) and a whopping $850 without one – why would you not just get an iPad AND an iPhone for the price? I actually doubt they'll sell at all – it's like AT&T wants them to fail, or they just want to sell all of their iPad stock before lowering the price.
But I also have no doubt that they WILL lower the price enough for the tablet to be accessible for everyone – after all, they don't want to be like HP and their already outdated Touchpads, which actually sell very well at $99, and have already gotten an Android port from those wonderful OS developers. So let's see what you'll get after they set a more reasonable price of, I don't know, $300-400:
I'll say, the HTC Jetstream looks a lot like a thicker version of the Galaxy Tab 10.1 – it's got the same rounded edges, the front with a big screen and nothing else, and the brushed aluminum back with a camera and dual LED flash plus the speaker. It's obviously thicker and heavier because of the materials used, but that doesn't detract from the overall experience (the Xoom is thicker and heavier, actually). The display is a decent 10 incher with a slightly unusual 1280×768 pixels resolution, which doesn't impress but also doesn't detract from the device – it just works.
Under the hood, the Jetstream has all it needs to offer a fast and smooth experience, with the dual core 1.5 GHz Snapdragon being more than enough for handling the Android interface, browser, Flash plugin (you can easily watch HD Flash on YouTube, so that says a lot), and any apps you might need to run. Qualcomm's new Adreno graphics adapter can also take on any graphics-related tasks, including 1080p video recording and playback.
Hardware specs wise, there's everything one might need for a comfortable tablet experience, whether at home, in the office or on the go: you've got your usual Wifi, GPS, Bluetooth adapters and all the sensors, while an 8 megapixels camera provides the ability to shoot beautiful photos (rather awkwardly with a 10 inch tablet, but still) and full HD videos and a smaller 1.3 megapixels unit is on the front for video calls and quick snapshots of, well, yourself. Obviously, the biggest feature on the Jetstream is the support for AT&T's new 4G LTE network, which is supposed to compete with Verizon's (making the Jetstream a direct competitor to the Galaxy Tab 10.1. which is almost as badly priced – maybe these 4G LTE radios are very expensive?).
Also, the new tablet will be powered by Android 3.0 Honeycomb, as usual, with a possible upgrade to Ice Cream Sandwich coming in the future (actually, I think that will be a must, as Google seeks to "unite" all Android devices under one universal OS). Thankfully, there are no custom skin modifications or anything like that from HTC, but of course AT&T installed their own bloatware, which can be easily removed.
HTC's first 10 inch tablet could've turned into a success right off the bat, however the crazy price really makes it unviable as a choice – nobody would pay that much for just the 4G LTE support (which is actually spotty at best and the top speed isn't much better than the usual 14.4 Mbps HSPA+ most of the time). Once the price goes down, this will make a great purchase, though, so we'll have to wait or just buy the iPad 2.