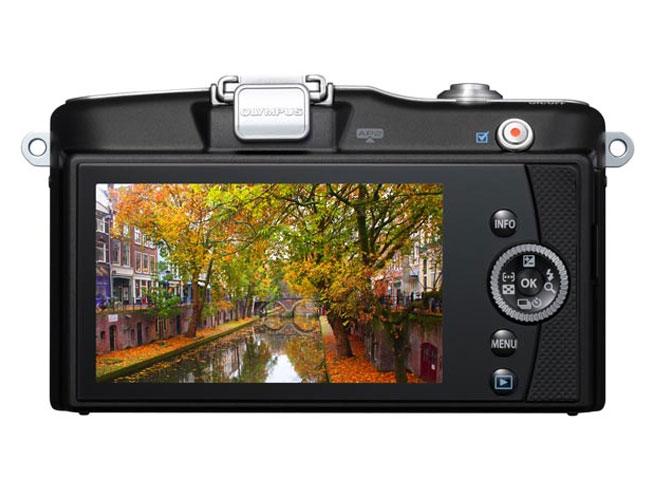 Olympus is one of the oldest players on the digital cameras market, with a lot of experience and know how accumulated over the years. Their cameras have always been some of the best, no matter if they were simple point and shoots or professional DSLRs. As of late, Olympus (along with Panasonic) started focusing more on their own Micro Four Thirds format, releasing one camera after another in a variety of form factors.
One of the latest additions is the Olympus Pen E-PM1, also known as Pen Mini, which is one of the smallest Micro Four Thirds cameras in the world, right along with Sony's NEX-5 (even that camera is slightly bigger). You may have already heard of the Pen line of interchangeable lens cameras (we can't call them dSLR's anymore, right?) – they're the traveling professional's best choice if they want all the manual features of a professional camera and don't want to carry a bulky device that needs its own bag.
Well, the Pen Mini takes the cake, as it's simply ridiculously small at only 110x64x34mm – it can certainly fit any bag or even pocket if you take the lens out of the equation. It's aimed more at people who are just getting into the world of professional cameras, and who want the option of interchangeable lens without the bulk of a "real" dSLR.
The camera looks pretty normal on the outside, especially if you don't know that it has a detachable lens. Unlike the NEX-5, for example, it has a hot shoe – that will definitely be good news for those who have some accessories and want to use them. Right below it is a small accessory port that allows it to have an electronic viewfinder attached for those who want it. The 3 inch display (standard size on most point and shoots) is great at displaying your photos, though it doesn't have any special features like swiveling or touch capabilities.
The sensor on the E-PM1 is a relatively small by today's standards 12 megapixels effective size unit, which is the same one in Olympus higher end dSLRs, so you know it's good. It can shoot 4032×3024 pixels photos or 1080i/720p videos (which are pretty much the same quality). The sensor is full sized Four Thirds, which means that it's a bit worse in low light conditions than smaller, more pixel packed sensors due to less light reaching it, but it's still good enough for most tasks, unless you're shooting moths at night :-).
The excellent automatic settings are complemented by an easy to use and understand menu that is tailored towards inexperienced users, however that does not compromise the manual options of the camera: professionals can find everything they need, as well, and get that perfect shot when traveling.
The camera can shoot 5.5 frames per second in continuous mode, with its shutter speed range being between 60 sec and 1/4000 sec – certainly not something a point-and-shoot or even semiprofessional camera can offer.
Olympus' Pen Mini also supports SDXC cards along with the usual SDHC, so you can use the new 64 GB cards without problems. It has an infrared sensor, though no remote comes in the box (you'll need to buy it separately), and a mini HDMI out port for when you want to output your work to a TV or projector.
To maximize battery life, the camera uses a proprietary Lithium Ion pack, which is supposed to last about 300 shots on a charge, however it sure would've been nice to be able to charge it while shooting. Overall, the Olympus Pen E-PM1 is an excellent camera for those who are just moving into the whole professional photography territory and it doesn't cost an arm and a leg, either: the whole camera along with a pretty good lens can be bought for $449.