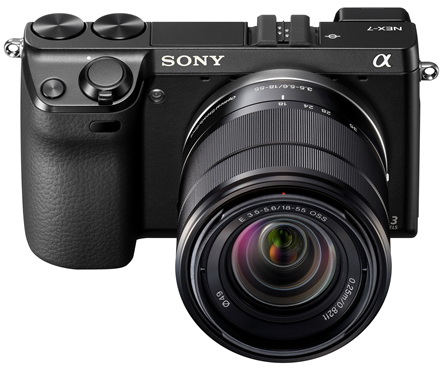 Sony isn't particularly well known for their digital cameras, however their Alpha line of dSLR's has amassed quite a following thanks to the high picture quality and large amount of features. Of course in real Sony style they are quite expensive, as well, and that's probably the main reason why they didn't gain more popularity worldwide.
One of the latest additions to the Alpha family is the NEX-7 – a high end APS-C mirror less interchangeable lens camera with a very compact body aimed at professionals and amateurs who want to get the most out of their shots wherever they may be: from the studio to a mountain range.
If you don't know about the previous NEX-5 and NEX-3 models, they are the trendsetters when it comes to ultra-compact cameras, being smallest in the world when they first came out and still holding the position despite some pretty good competition (mainly from the micro Four Thirds format). But those two cameras are aimed at novice and amateur users who are not that demanding of their hardware, and professionals find them a bit lacking in the features department. The NEX-7 is different, which is signified by the Alpha prefix, which was used only on the top of the line Sony dSLRs up until now.
On the outside, the Alpha NEX-7 looks pretty much like the NEX-5 and NEX-3 – it's got the same style and body finish, although the overall size is larger than both of those cameras, but not by much at 120x67x43 mm (compare that to the 117x62x33 mm of the NEX-3, which is also bigger than the NEX-5). For the power and features that it packs, that is definitely very compact, and it's made out of a magnesium alloy through and out, just like the NEX-5, so it's very sturdy as well.
Despite its small size, this camera manages to fit not only a hot shoe, but also one of the, if not THE best electronic viewfinder on any ILC: the little thing crams a full 2.4 million pixels inside, more than any other EVF on the market, and all of those dots are also OLEDs, which means that the color reproduction and contrast levels will be near perfect (especially since it's not exposed to direct light when you use it). That's pretty innovative on Sony's part. The 3 inch display is surprisingly not touch sensitive, which is a great thing since GH2 users have been complaining a lot about this "feature" that makes it hard to actually work, and it tilts at a considerable degree to allow for more complicated shots. It would've been perfect if it swiveled around, but I guess you can't have it all :-).
The controls have also gotten a revamp: now the user has three dials, which allow him to control the cameras vast amount of functions better and faster than before – that's a welcome addition on such a small camera with lots of manual adjustment capabilities.
The inside of the Alpha NEX-7 is no less impressive, with Sony cramming in the same 24 Megapixels APS-C sensor that is in their current full sized flagship camera, the Alpha A77. Along with it is a new electronic first-curtain shutter, which reduces response time from 100ms to 20ms, which is always a good thing.
The camera is not only good for photos, people who want to shoot video should take a look at it, as well: it has support for 1080p HD video recording, a stereo array integrated into the camera, an infrared remote control receiver and get this, a microphone input socket – if you're serious about your video production, you'll definitely want to use an external mic, and with this camera, there's no need to get a separate recorder and then sync the audio/video tracks manually! Moreover, if you do intend to use it as a video camera (and why wouldn't you, it's better than the acclaimed EOS 5D Mark 2 in some regards), you can get the optional LA-EA2 autofocus adapter, which brings fast autofocus to any and all attachable lenses – even the GH1/GH2 can't do that!
The NEX-7 is a very impressive camera, and there's really nothing bad to be said about it – if you like the compact form factor and want to have the most features inside a small camera, this one's it. The price, however, is definitely not for everyone at $1200 for the body only (plus the accessories also cost an arm and a leg), but what else did you expect from a top of the line product?