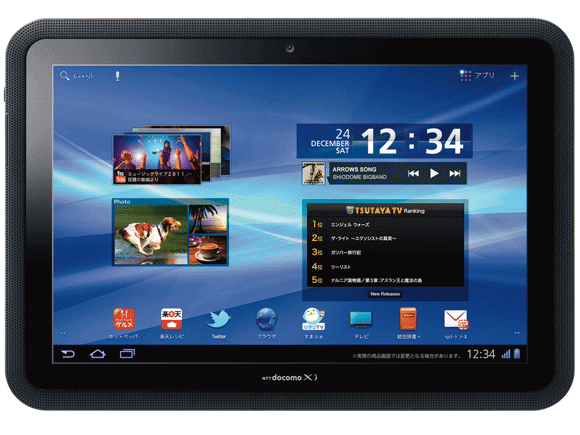 Besides the slightly (or completely, depending on how you look at it) crazy LOOX F-07C Windows 7 smartphone, Fujitsu has also announced a more normal device for the masses in Japan: the Arrows Tab LTE F-01D tablet. The full name may be long and hard to remember, but the tablet itself is actually pretty good – it's got everything a modern tablet should have, it has a nice size and weight and more importantly, it's supposed to be water resistant, which is a pretty unique and useful feature, indeed.
While the new Fujitsu tablet does look quite nice, at a first glance, you would never say that the Arrows Tab is anything special. It's go the usual tablet form factor with no buttons on the front – just the big 10.1 inch touch screen and a slightly visible camera, and a camera on the back cover, which looks very nice as well with its white finish – it's made out of plastic, but Fujitsu seems to be good at choosing the material, as evidenced by their fully plastic laptops that are sturdier than some supposedly metal-alloy ones.
The display, by the way, has the usual resolution of 1280×800 pixels, and it looks very nice, with good contrast and brightness ratios and great color reproduction – it's no Super AMOLED Plus, but it'll get the job done for the vast majority of people. The thickness of the device impresses, especially since it's a rugged design: it's only 12 mm thick, and weighs only 600 grams, as well, not in the least part because of the fully plastic body.
On the inside, the tablet has a 1 GHz dual core TI OMAP 4430 platform, which should be more than enough for any and all apps on the market, and should prove to be very future proof, seeing as Android 3.2 still doesn't manage to fully load both cores in most cases. For multitasking's sake, there's a full gigabyte of RAM, as well, which lets you run all the apps you want at the same time without any lags or slowdowns.
The other specs include a Wifi and Bluetooth adapters (d'uh, how can you live without them), GPS, DLNA support, a HDMI out port, a micro SD card slot that supports cards of up to 32 GB in size, a front facing 1.3 megapixels camera for video calls and Kinect-like gesture control (more on that below) and a 5 megapixels snapper on the back for all your photo and video taking needs.
The gesture control I just mentioned is pretty interesting and can be really useful at times. It's basically like Micorosft's Kinect: you use the front facig web camera to control the device by swiping/waving your hands in different directions and different shapes, and the tablet recognizes the moves and performs an action. You might look pretty stupid, but having the tablet on your desk or in the shower (remember I said it's water resistant?) it's very nice to know you can control it even from a distance.
Of course, the Arrows Tab LTE F-01D is running the latest version of Android Honeycomb, without any pesky skin customizations and with full support for all the apps on the market (whose number is growing every single day – you can now easily find most of the apps that were previously only available for Android 2.3).
The Arrows Tab LTE F-01D will sadly only be available in Japan on the NTT DoCoMo network, but you can import it anytime if you have the money :-).